The French Historical Revolution: The Annales School 1929 - 2014, 2nd Edition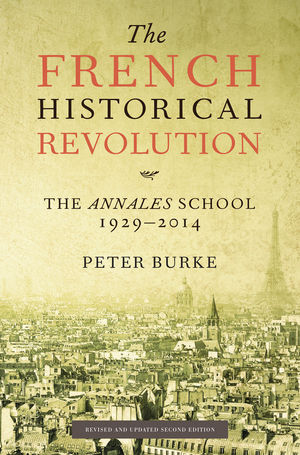 The French Historical Revolution: The Annales School 1929 - 2014, 2nd Edition
ISBN: 978-0-745-68937-1 January 2015 Polity 160 Pages
Description
This book provides a critical history of the movement associated with the journal Annales, from its foundation in 1929 to the present. This movement has been the single most important force in the development of what is sometimes called 'the new history'.

Renowned cultural historian, Peter Burke, distinguishes between four main generations in the development of the Annales School. The first generation included Lucien Febvre and Marc Bloch, who fought against the old historical establishment and founded the journal Annales to encourage interdisciplinary collaboration. The second generation was dominated by Fernand Braudel, whose magnificent work on the Mediterranean has become a modern classic. The third generation, deeply associated with the 'cultural turn' in historical scholarship, includes recently well-known historians such as Emmanuel Le Roy Ladurie, Jacques Le Goff and Georges Duby. This new edition brings us right up to the present, and contemplates the work of a fourth generation, including practitioners such as Roger Chartier, Serge Gruzinski and Jacques Revel. This new generation continued much of the cultural focus of the previous Annales historians, while diversifying further, and becoming increasingly 'reflexive', a move that owes much to the sociocultural theories of Michel Foucault, Michel de Certeau and Pierre Bourdieu.

Wide-ranging yet concise, this new edition of a classic work of analysis of one of the most important historical movements of the twentieth century will be welcomed by students of history and other social sciences and by the interested general reader.
Table of contents
Acknowledgements
Preface to the Second Edition
Introduction
1 The Old Historiographical Regime and its Critics
2 The Founders: Lucien Febvre and Marc Bloch
i The Early Years
ii Strasbourg
iii The Foundation of Annales
iv The Institutionalization of Annales
3 The Age of Braudel
i The Mediterranean
ii The Later Braudel
iii The Rise of Quantitative History
4 The Third Generation
i From the Cellar to the Attic
ii The 'Third Level' of Serial History
iii Reactions: Anthropology, Politics, Narrative
5 New Directions (1989-2014)
6 The Annales in Global Perspective
i Reception and Resistance
ii Striking a Balance
Glossary: The Language of Annales
Chronology
Bibliography
Index
New To This Edition
References and bibliographies have been updated, and a new chapter added bringing the content right up-to-date for 2014.
Reviews
No one has had a greater collective impact on modern historiography than the historians of the Annales school, and no one has appraised their aims and achievements with more sympathetic insight than Peter Burke. His concise, inclusive, and authoritative survey of the transformations they brought about is itself a powerful incentive to think reflectively about the idea of history.
Stuart Clark, University of Swansea [and editor of The Annales School: Critical Assessments, 1999.]


Eminent historian of modern France, Peter Burke is also a great connoisseur of French historians, and especially of the Annales School. This new and expanded edition of The French Historical Revolution brings out the contribution of a 4th generation of the Annales open to the diversity of the world, its hybridity and cultural encounters through the work of its most original and productive representatives, such as Serge Gruzinski, Lucette Valensi and Nathan Wachtel.
André Burguière, L'Ecole des Hautes Etudes on Sciences Sociales