The French Revolution: 1770-1814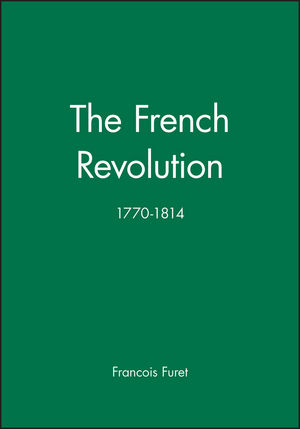 The French Revolution: 1770-1814
ISBN: 978-0-631-20299-8
Dec 1996
332 pages
Description
This volume, comprising Part I of the authors classic work Revolutionary France 1770-1880, offers a vivid narrative and radical reinterpretation of the years surrounding the momentous events of 1789 and their aftermath. During this period there were not one, but two revolutions: by intent the first was egalitarian, the second- Bonapartes authoritarian. The tension between the two characterized the period and was to shape the Republic that eventually emerged from the ruins of the ancien regime.
List of Illustrations.
Acknowledgements.
1. The Ancien Régime.
2. The Revolution of 1789: 1787-1791.
3. The Jacobin Republic: 1791-1794.
4. The Thermidorian Republic: 1794-1799.
5. Napoleon Bonaparte: 1799-1814.
Appendix I: Chronological Table.
Appendix II: The Republican Calendar for Year II (1793-1794).
Bibliography.
Glossary.
Index of Names.
Index of Subjects.
Reviews of the parent volume
Revolutionary France 1770-1880:
"An outstanding work of synthesis and imagination." The Times
"This book is the best - and, especially, the best written - history of French politics during these years that I know. Conceived in the analytical tradition of Constant and Tocqueville, written in the narrative, learned, and convincing." Patrice Higonnet, Harvard University
* Offers concise, classic interpretation of the causes, course and outcome of the French Revolution.
* Written by the leading international historian of the period.
* Provides readers with a critical perspective on the historiography of the subject.