The French Revolution: The Essential Readings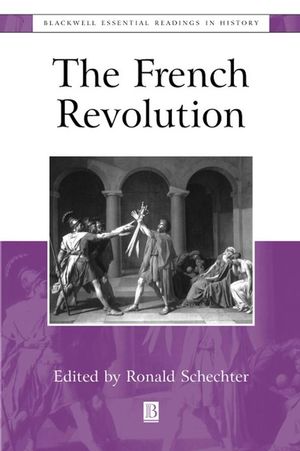 The French Revolution: The Essential Readings
ISBN: 978-0-631-21271-3 March 2001 Wiley-Blackwell 356 Pages
Description
This book presents ten selections from the most important scholarship on the French Revolution over the past quarter century, introduced and contextualized for student readers.
Historians typically categorize the historiography of the French Revolution according to each author's approval or disapproval of the Revolution, political agenda (for example Marxist, liberal, conservative, or feminist), or methodology (for example social, political, or cultural history). This book demonstrates the inadequacy of these categories of analysis for a nuanced understanding of the Revolution and emphasizes the surprising connections between historians typically seen simply as opponents in a debate. In its thorough introduction, The French Revolution: The Essential Readings demonstrates the success of an eclectic, interdisciplinary approach to this central period in modern European history and the larger relevance of the historiography to the humanities more generally.
Table of contents
Editors Introduction.
Part I: Furet's Challenge.
1. Interpreting the French Revolution. (François Furet).
Part II: The Enlightenment, The Public Sphere and The Question of Origins.
2. On the Problem of the Ideological Origins of the French Revolution. (Keith Baker).
3. The Cultural Origins of the French Revolution. Roger Chartier.
4. The Forbidden Best-Sellers of Pre-Revolutionary France. (Robert Darnton).
5. The Great Chain of Buying: Medical Advertisement, the Bourgeois Public Sphere, and the Origins of the French Revolution. (Colin Jones).
6. Luxury, Morality, and Social Change: Why There Was No Middle-Class Consciousness in Pre-revolutionary France. (Sarah Maza).
Part IV: Gendering The Revolution.
7. French Feminists and the Rights of "Man": Olympe de Gouge's Declarations. (Joan Scott).
8. The Band of Brothers. (Lynn Hunt).
Part V: Religion and The Sacred.
9. Church, State, and the Ideological Origins of the French Revolution: The Debate over the General Assembly of the Gallican Clergy in 1765. (Dale Van Kley).
10. The Revolutionary Festival: A Transfer of Sacrality. (Mona Ozouf).
Index.
Reviews
"This is an excellent introduction for those seeking to understand the current state of play in the enduring, but increasingly complex, debate over the origins, nature, and significance of the French Revolution. It contains a judicious selection of articles and extracts, which illustrate the different responses to the demise of the Marxist interpretation of this world-historical event, since the revisionist charge was led by François Furet in the 1970s. These challenging and up-to-date contributions to the cultural history of political, society, gender, and religion are expertly introduced by the editor, who is to be congratulated on this helpful and timely collection, which will appeal to scholars and students alike."
Malcolm Crook, Keele University
<!--end-->
"For the study of the Revolution's origins, Schechter has chosen some very good pieces." H-Net Reviews

"Schechter provides a good guide through the material ... The collection is stimulating ..." Times Higher Education Supplement