The Future of Christian Theology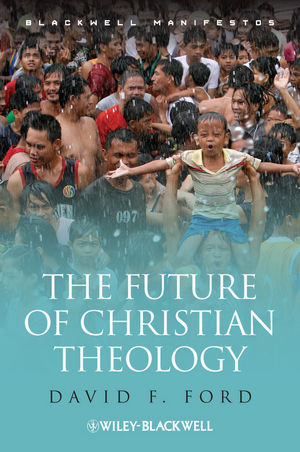 The Future of Christian Theology
ISBN: 978-1-405-14272-4 March 2011 Wiley-Blackwell 256 Pages
Description
The Future of Christian Theology
represents a personal manifesto from one of the world's leading theologians, exploring the ways Christian theology in the twenty-first century has been, and can now continue to be, both creative and wise.  
Represents an outstanding and engaging account of the task of theology today
Offers an insightful description of what makes for discerning and creative theology.
Written from the perspective of decades of experience, and in close dialogue with theologians of other faiths
Features a strong interfaith and public theology dimension, and a contemporary portrait of the field from the inside
A hopeful and illuminating search for wisdom and understanding in the increasingly complex religious and secular world of the twenty-first century.
Table of contents
Preface.
Source Acknowledgments.
1 A Cry for Wisdom: Theology for the Twenty-first Century.
From the Twentieth to the Twenty-first Century: Theological Abundance and Variety.
Four Elements of Wise Creativity.
Conclusion.
2 Drama in Bible, Theology, and Life.
The Bible: More Dramatic than Epic or Lyric.
Gospel of John – Epic, Lyric, and above all Dramatic.
Intensity and Extensity in the Ongoing Drama.
Conclusion: Drama, Wise Theological Creativity, and an Unanswered Question.
3 A Dramatic Code for Twenty-first Century Theology.
Modern Secularity and the Health of the Public Sphere.
A Drama-centered Account of Modernity.
A Dramatic Code for Theology Today.
Conclusion: Within and Beyond the Drama.
4 Desire Above All.
A Balanced Dynamic of Theological Moods.
Between Closed Religion and Wide Open Religion.
Theological Moods in Bible and Tradition.
God-centered Moods: The Divine Passive.
5 Belonging: Church, Collegiality, Conversation.
Belonging to God and Each Other through Covenant.
Theological Creativity in and for the Church.
Learning and Teaching Together: Collegiality.
Extended Belonging: Conversations.
Intensive Belonging: Cohabitations, Collaborations, and Movements.
Intimate Belonging: Friendships.
Conclusion: Complex Belonging.
6 Church and Society.
First Case Study: Dietrich Bonhoeffer.
Continuing This Drama.
Contemporary Case: Theological Tasks for the Church in Democratic Civil Societies.
7 Inter-Faith Blessing.
A Jewish Blessing: Dabru Emet.
A Muslim Blessing: A Common Word.
Scriptural Reasoning as "First Inter-Faith Theology".
Seeking Wisdom for Inter-Faith Engagement: A Muscat Manifesto.
Civil Wisdom.
8 New Theology and Religious Studies: Shaping, Teaching, and Funding a Field.
What is New Theology and Religious Studies?
A Framework for Creativity.
Other Frameworks.
Curriculum and Teachers.
Funding.
The Global Potential of New Theology and Religious Studies.
9 Becoming a Theologian: The Apprentice.
Disciple and Apprentice.
Retrieval – A Receptive, Reading Self.
Engagement – A Loved and Loving Self.
Thinking – An Imaginative, Discerning Self.
Communication – A Witnessing, Poetic Self.
10 The Bible: Creative Source of Theology.
How the Bible Has Shaped This Manifesto.
What Sort of Bible Reading is This?
The Four Elements of Wise and Creative Theology in the Bible.
A Biblical Hope for Twenty-first Century Theology.
Notes and References.
Index.
Reviews
"In my opinion, this book's readability is its greatest strength because here it comes closest to serving his purpose: to stimulate readers to seek wisdom and thereby assist them in shaping not only their personal lives but society."  (Studies in Religion, 1 September 2013)
"Thus far, the volume is of general interest, but there follows two more specialist chapters which cover academic teaching, curriculum shaping and funding and then the process of learning to be a theologian."  (Evangelical Quarterly, 3 July 2012) 
"This thoughtful and encouraging book forms part of a new series addressing contemporary debates and controversies in the humanities and social sciences . . . The book deserves to be read prayerfully and I hope it will find its way into the hands of those training for ministry as well as parish clergy and congregational leaders."  (Religion & Theology, 1 August 2012)
"Ford's central achievement, then, is his insistence on a model of theology that bears witness to the unity, diversity, and vibrancy of twenty-first century Christianity."  (The Furrow, 1 September 2012)
"The Future of Christian Theology is a book which is at once as bold and exciting as it is sensitive and wise. . . The book marks the very best of what that series might provide: written in exceptionally clear and accessible prose, it is nevertheless profound and deep. . . I cannot imagine any theologian or church person who would not find the reading of this book a beneficial enterprise. It is a must for all who care about the health of theology, the Church and - even more broadly - the world of which they are a part." (Theology, 1 November 2011)
"This book represents a mature summary of his academic and institutional vision." (Church Times, 23 September 2011)
"Ford writes exegesis that does more than illustrate; it leads . . . It's really, really good . . . Few theologians writing today are better positioned to see where theology needs to stay the same and where it needs to change for a new century." (The Christian Century, 18 April 2011)
"The Future of Christian Theology by Prof David Ford of Cambridge (Wiley-Blackwell, £50) is another feast of good things: a book to widen horizons and deepen spirituality . . .So, two splendid books to feed minds and hearts." (Methodist Recorder, 21 July 2011)
"In the meantime, Ford's timely, stylish and passionate manifesto gives theologians plenty of work to be getting on with." (The Tablet, 23 April 2011)