The Future of War: The Re-Enchantment of War in the Twenty-First Century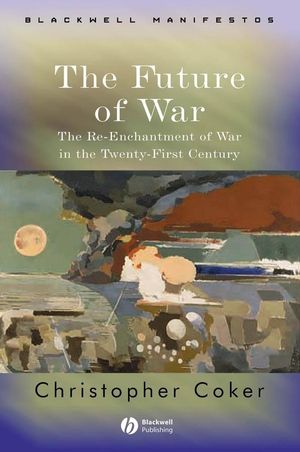 The Future of War: The Re-Enchantment of War in the Twenty-First Century
ISBN: 978-0-470-69840-2 April 2008 Wiley-Blackwell 176 Pages
Description
In this book, Professor Christopher Coker presents an original and controversial thesis about the future of war.


Argues that the biotechnology revolution has given war a new lease of life.


Draws on thinkers from Hegel and Nietzsche to the postmodernists.


Refers to modern fiction and films.


Part of the prestigious Blackwell Manifestos series.
Table of contents
Foreword by Michael Evans.
Preface.
1. The Re-Enchantment of War.
2. The Warrior of The Future: Memes or Genes?.
3. Towards Post Human Warfare.
4. Beyond The Death Threshold.
5. The Death of Sacrifice.
6. To be Concluded?.
Notes.
Index.
Reviews
"For all those who seek a deeper understanding of the contours of war, then this fine book should be required reading."
Michael Evans, Royal Military College, Duntroon

"An important and exciting book that draws on a remarkable range of sources."

Andrew Linklater, University of Wales, Aberystwyth
Features


An original and controversial thesis about the future of war.


Argues that the biotechnology revolution has given war a new lease of life.


Draws on thinkers from Hegel and Nietzsche to the postmodernists.


Refers to modern fiction and films.


Part of the prestigious Blackwell Manifestos series