The Future of the Capitalist State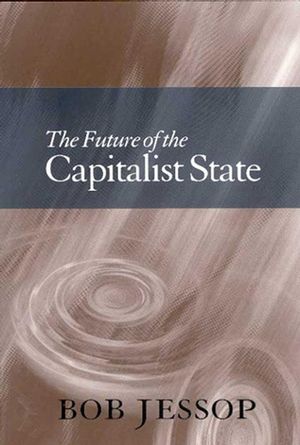 The Future of the Capitalist State
ISBN: 978-0-745-62273-6
Dec 2002, Polity
344 pages
Description
In this important new book, Bob Jessop offers a radical new interpretation of capitalist states and their likely future development. He focuses on the changing forms, functions, scales and effectiveness of economic and social policy that have emerged since the 1950s in advanced western capitalist states.


The postwar Keynesian welfare national state that developed in most advanced capitalist societies has long been regarded as being in crisis. Mounting tensions have been generated by technological change, globalization, and economic and political crises, and new social and political movements have also had a destabilizing impact. Jessop examines these factors in relation to the rise, consolidation and crisis of Atlantic Fordism and asks whether a new type of capitalist state that is currently emerging offers a solution. He notes that there are several difficulties still to be overcome before the new type of state is consolidated; in particular, he is critical of its neoliberal form and considers its main alternatives.


This book will have broad cross-disciplinary appeal. It will be read by sociologists, political scientists, institutional economists, geographers and students of social policy.
List of Boxes.
List of Tables and Figure.
Preface.
Abbreviations.
Introduction.
1. Capitalism and the Capitalist Type of State.
2. The Keynesian Welfare National State.
3. The Schumpeterian Competition State.
4. Social Reproduction and the Workfare State.
5. The Political Economy of State Rescaling.
6. From Mixed Economy to Metagovernance.
7. Towards Schumpeterian Workfare Postnational Regimes?.
Notes.
References.
Index.
"For over a quarter of a century Bob Jessop has been creatively grappling with the problem of how to understand the capitalist state, its dilemmas and contradictions. The Future of the Capitalist State is a thoughtful, complex, provocative culmination of this work. It unequivocally demonstrates that the Marxist tradition remains a vibrant source of ideas about capitalism and the state."
Erik Olin Wright, University of Wisconsin
"Jessop surveys the type of capitalism and capitalist state that dominated the postwar decades and from which we have been departing during the last quarter century: Atlantic Fordism and the "Keynesian Welfare National State". In a masterful synthesis of neo-Marxist and institutionalist argument, he then proceeds to draw the contours of the emergent successor regime, termed the "Schumpeterian Workfare Postnational Regime". This complex yet conceptually highly transparent analysis is a splendid example of looking at the present as history. It could also serve as a source of political critique and inspiration for a European social democracy that is still worth its name." Claus Offe, Humboldt-Universität zu Berlin

"...theoretically sophisticated, rigoroushly conceptualised analysis of the contemporary capitalist state. Jessop's immense feat is to have mapped the contours of a bewilderingly complex relationship between economy, society and the State. Elegantly combining analyses of poitical economy, social policy and economic geography, this work is an excellent resource for studies in a variety of disciplines". James Martin, University of London

"This is a very good book. For those seeking to make sense of the changes - political, social and economic - that have occured since the mid- to late 1970s, it is indispensable. Bob Jessop brings so much together here in a synthesis of enviable proportions ... The book represents a real advance in our understanding." American Journal of Sociology

"The book is a tour de force; anybody interested in what is happening to the capitalist state must read it...this is 'postdisciplinary' social science at its best, bringing thought-provoking abstract concepts to bear on current social predicaments." Progress in Human Geography

"It is not only the influence of his ideas or the productive output of his writings, but also the creativity of his thought that has established Jessop as a key contemporary thinker. His theoretical explorations in the past 20 years have focused on the capitalist state and related areas of regulation, governance, globalization and the welfare state. Many of these themes are pursued in jessop's latest book, The Future of teh Capitalist State. This book is about the development of the modern state in capitalist society, covering north America, north-western Europe and Australia." Mike Marinetto, Cardiff University
A radical new interpretation of capitalist states and their likely future development in relation to social policy.
Focuses on the changing forms and effectiveness of economic and social policy in the advanced western capitalist states over the past fifty years.

Examines the question of whether the welfare state is in crisis due to the destabilizing impact of environmental problems, technological change, new social and political movements and globalization.

Asks whether the new emerging welfare regime can offer a solution, and considers the alternatives.