The Future of the Multinational Company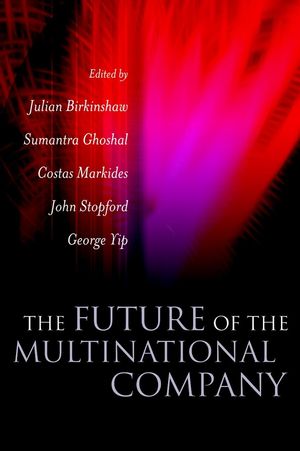 The Future of the Multinational Company
ISBN: 978-0-470-86836-2
Nov 2004
282 pages
Description
Recent Events -from September 11, to the anti-globalization protests to the collapse of the high-tech boom have accentuated the sense that the global economy is moving into uncharted waters Bringing together the leading authorities on globalization and international business The Future of the Multinational Company looks ahead to the new challenges facing multinational firms and predicts what the multinational company will look like in ten years time.
Brings together the leading authorities in the field of global / international busi-ness.
Accademically rigourous but accessible ·
Addresses a topic of concern to practitioners and academics alike
Introduction (
Julian Birkinshaw, Sumantra Ghoshal, Costas Markides, John Stopford, George Yip).
SECTION 1: RIVAL STATES, RIVAL FIRMS.
Chapter 1: The (A)Political Multinational: State-Firm Rivalry Revisited (Louis Turner).
Chapter 2: The moral response to capitalism: Can we learn from the Victorians?(John Dunning).
Chapter 3: The multi-home based multinational: combining global competitiveness and local innovativeness (Örjan Sölvell).
Chapter 4: Regional multinationals: The location-bound drivers of global strategy (Alan Rugman and Alain Verbeke).
SECTION 2: MANAGING THE MULTINATIONAL ENTERPRISE.
Chapter 5: The evolving multinational: Strategy and structure in Latin American operations, 1990-2000  (Jose de la Torre, Jose Paulo Esperanca and Jon Martinez).
Chapter 6: Risk and the dynamics of globalisation  (Don Lessard).
Chapter 7: The global OEM: The transformation of Asian sup plier companies )(Anthony Leung and George Yip) .
Chapter 8: Designing Multinationals: Is it all over now? (Lawrence Franko).
Chapter 9: The customer-focused multinational: revisiting the Stopford and Wells model in an era of global customers (Julian Birkinshaw and Siri Terjesen).
Chapter 10: Geography as a design variable (Eleanor Westney).
Chapter 11: Regional Organisations: Beware of the pitfalls (Paul Verdin, Venkat Subramanian, Alice de Koning and Eline Van Poeck).
Chapter 12: The Metanational: The next step in the evolution of the Multinational Enterprise (Yves Doz, Jose Santos and Peter Williamson).
SECTION 3: REJUVENATING THE MATURE BUSINESS.
Chapter 13: The critical role of sense-making in Rejuvenating the Mature Business (John Stopford and Charles Baden-Fuller).
Chapter 14: The invisible underpinnings of corporate rejuvenation: purposeful action taking by individuals (Sumantra Ghoshal and Heike Bruch).
Chapter 15: Rejuvenation revisited: Identifying and managing strategy decay and innovation (Peter Williamson).
Chapter 16: Racing to be second: Innovation through imitation (Costas Markides).
Chapter 17: Who needs multinationals? Lessons from open-source software (Rob Grant, Andrea Lipparini, Gianni Lorenzoni, and Elaine Romanelli).
SECTION: 4.
Chapter 18: Management Research: Reprise and Prologue (John Stopford).
Bibliography.
List of Contributors.
Index.
Brings together leading London Business School authorities in the field of global and international business
Combines accessibility with academic rigour
Addresses a topic of concern to academics and practitioners alike