The Futurism of the Instant: Stop-Eject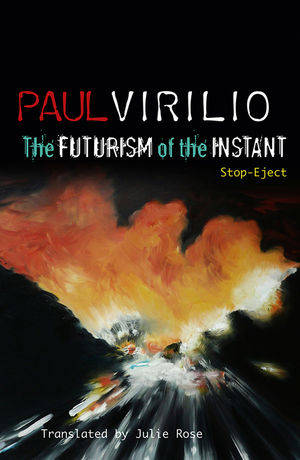 The Futurism of the Instant: Stop-Eject
ISBN: 978-0-745-64863-7 December 2010 Polity 100 Pages
Description
With around 645 million people expected to be displaced Ð by wars and other catastrophes Ð by 2050, Virilio begins The Futurism of the Instant by looking at the future of human settlement and migration through the evolution of the city. What he finds is an accelerating exodus from the city as we have known it, an exodus that reverses the desertion of the countryside for the city in the past. This exodus creates a circulating city of transients on the move that will remove us further and further from our native lands en route to the ultimate exile, beyond planet Earth itself Ð something the world's mad scientists have already been planning for some time.
Exploring the shifts in scale involved in such population flows and the fraught and complex relationship between sedentary settlement and globalization, Virilio considers what the resultant loss of identity might mean, not only in terms of the exhaustion of biodiversity, but also in terms of the catastrophic elimination of temporal diversity, with the compression and fragmentation of time enabled by the nanotechnologies in an ever increasing acceleration of reality. This previously unimaginable prospect is brought closer by the accident of an instant that wipes out all distinction between past, present and future within the black hole of globalized interconnectivity.
Table of contents
Translator's Preface vii

1 Stop-Eject 1

2 The Ultracity 32

3 The Futurism of the Instant 70

Index 103
Reviews
"One of the most verbally exuberant of modern philosophers."
The Guardian
"Paul Virilio has long been one of the most fascinating and provocative thinkers of our contemporary moment."
Douglas Kellner, UCLA
"If Walter Benjamin had one true intellectual descendant who extended his inquiries into the second half of the twentieth century, this must be Paul Virilio."
Lev Manovich, author of The New Media
What's New
• Paul Virilio is one of the trendiest and most influential writers in the area of French cultural and media theory.
• He presents an account of the speeding up of time, and the way in which this means we should view history.
• The publication of this book should attract attention from the author's strong following, particularly in the US.
• This should appeal to all students of Cultural Theory and Media Studies.