The GL Diet For Dummies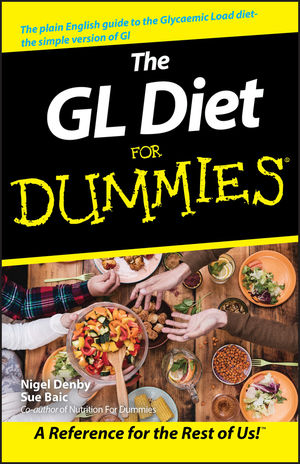 The GL Diet For Dummies
ISBN: 978-1-119-99803-7 March 2011 252 Pages
Description
If you're sick of no-carb diets, or just looking for a healthy eating plan, then the GL Diet is for you. No more calculations, no calorie-counting and no more cravings for carbs – as long as you stick to foods that are low in GL, you can stay healthy and lose weight without having to go without. The GL Diet For Dummies explains the science behind the plan, helps you to incorporate GL into your everyday life and gives readers 80 recipes to try.
Table of contents
Introduction.
Part I: Getting Started.
Chapter 1: Introducing GL: Healthy Eating in the Real World.
Chapter 2: Checking Out the Science behind GL.
Chapter 3: Starting Your Low-GL Plan.
Part II: Shopping and Eating Out.
Chapter 4: Cruising with Confidence: Low-GL Shopping and Eating on the Run.
Chapter 5: Table for Two? Eating Out GL-Style.
Part III: Morning to Night Recipes.
Chapter 6: Starting Your Day with a Low-GL Breakfast.
Chapter 7: Doing Lunch: Low-GL Lunches at Home and on the GO.
Chapter 8: Delectable Dinners: Low-GL Suppers and Ideas for Entertaining.
Chapter 9: Just Desserts: Virtuous Low-GL Puddings.
Chapter 10: Smart Snacks: Low-GL Quick Bites and Healthy Nibbles.
Part IV: Optimising GL.
Chapter 11: Replacing Common Ingredients with GL-friendly Alternatives.
Chapter 12: Placing GL in the Healthy Living Jigsaw.
Chapter 13: Medical Benefits of the GL Diet.
Part V: The Part of Tens.
Chapter 14: Ten Reasons for Eating the Low-GL Way.
Chapter 15: Ten Best GL Web Sites.
Chapter 16: Ten GL-Savvy Food Swaps.
Appendix: A–Z List of Low-GL Foods.
Index.