The Gastrointestinal System at a Glance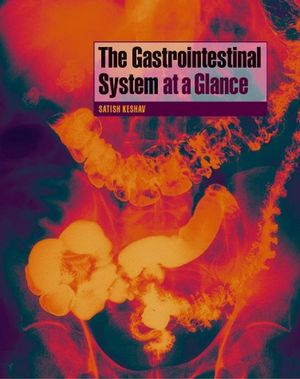 The Gastrointestinal System at a Glance
ISBN: 978-1-405-14502-2
Feb 2009, Wiley-Blackwell
120 pages
Description
The latest system based addition to the At a Glance series, The Gastrointestinal System at a Glance is a concise and integrated text on the gastrointestinal system. The book is intended as an authoritative and concise account of the field covering anatomy, physiology, biochemistry, pharmacology, and pathology as well as clinical management.


The book is divided in to four sections: Basic Structure and Function, Integrated Function and Disorders and Diseases as well as a short section on Diagnosis and Treatment. The structure of the book takes the student from the basic sciences to clinical practice whilst always maintaining an integrated balance and understanding of both aspects. Fantastic diagrams that include a quick summary of clinical presentations will aid students to learn and revise.


The Gastrointestinal System at a Glance is ideal as an introduction to the subject, as a companion book for a course, and as a book for revision prior to examinations.
Preface.
Acknowledgements.
List of abbreviations.
Introduction and overview.
Part 1 Structure and Function.
1. Mouth and Teeth.
2. Salivary Glands.
3. Tongue and Pharynx.
4. Oesophagus.
5. Stomach.
6. Duodenum.
7. Pancreas.
8. Liver.
9. Biliary System.
10. Hepatic Portal System.
11. Jejunum and Ileum.
12. Caecum and Appendix.
13. Colon.
14. Rectum and Anus.
Part 2 Integrated Function.
15. Enteric Motility.
16. Enteric Endocrine System.
17. Enteric and Autonomic Nerves.
18. Mucosal Immune System.
19. Digestion and Absorption.
20. Digestion of Carbohydrates, Proteins and Fats.
21. Digestion of Vitamins and Minerals.
22. Nutrition.
23. Fluid and Electrolyte Balance.
24. Hepatic Metabolic and Synthetic Function.
25. Hepatic Detoxification and Excretion.
Part 3 Disorders and Diseases.
26. Nausea and Vomiting.
27. Diarrhoea.
28. Constipation.
29. Functional Disorders and Irritable Bowel Syndrome.
30. Gastroesophageal Reflux and Hiatus Hernia.
31. Peptic Ulcer and Helicobacter Pylori.
32. Gastroenteritis and Food Poisoning.
33. Gastointestinal System Infections.
34. Ulcerative Colitis and Crohn's Disease.
35. Coeliac Disease.
36. Obestiy and Malnutrition.
37. Colon and Rectal Cancer.
38. Gastrointestinal, Pancreatic and Liver Tumours.
39. Haemorrhoids and and Anorectal Disease.
40. Gallstones and Pancreatitis.
41. Hepatitis and Acute Liver Failure.
42. Cirrhosis and Chronic Liver Disease.
Part 4 Diagnosis and Treatment.
42. Clinical Assessment and Blood Tests.
44. Endoscopy.
45. Radiology and Imaging.
46. Functional Tests.
47. Pharmacotherapy.
48. Gastrointestinal Surgery.
Index
* Written by an expert gastroenterologist with a broad, informed view of the field
* concise account of topics, with clear diagrams and accessible text.
* integrated approach, combining basic science with clinical practice

* Every disease has a memorable illustrated summary of the relevant clinical presentations