The Gay and Lesbian Psychotherapy Treatment Planner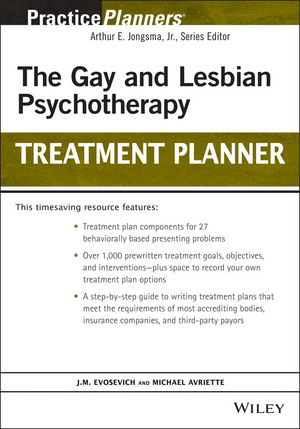 The Gay and Lesbian Psychotherapy Treatment Planner
ISBN: 978-0-471-35080-4
Dec 1999
224 pages
Description
Patterned after the bestselling The Complete Adult Psychotherapy Treatment Planner, this invaluable sourcebook supplies all of the essential building blocks you need to develop focused, formal treatment plans that satisfy all of the demands of HMOs, managed care companies, third-party payers, and state and federal review agencies. Organized around 27 main presenting problems, from employment discrimination and religious conflicts to abusive partners, sexual identity confusion, and more, this book features:
Over 1,000 well-crafted, clear statements describing the behavioral manifestations of each problem, the long-term goals and short-term objectives of treatment, and clinically tested treatment options.
A sample treatment plan that can be emulated in writing plans that meet all requirements of third-party payers and accrediting agencies, including the JCAHO and the NCQA
A quick-reference format that allows you to easily locate treatment plan components by behavioral problem
Large workbook-style pages affording plenty of space to record your own customized goals, objectives,and interventions
Adoption/Surrogacy.

Aging.

Anxiety.

Breast Cancer.

Chemical Dependence.

Depression.

Employment Discrimination.

Family of Origin Conflicts.

Female Sexual Dysfunction.

Grief/Multiple Loss.

Hate Crime Victim.

Homosexual Married to Heterosexual.

HIV/AIDS.

HIV Negative/HIV Positive Couple.

Internalized Homophobia.

Intimate Relationship Conflicts.

Legal Conflicts.

Male Sexual Dysfunction.

Parenting Conflicts.

Physical Abuse Victim.

Religious Conflicts.

Safer Sex.

Separation.

Sexual Abuse.

Sexual Acting Out.

Sexual Identity Confusion--Adolescent.

Sexual Identity Confusion--Adult.

Appendices.

About the Disk.