The Gentle Art of Communicating with Kids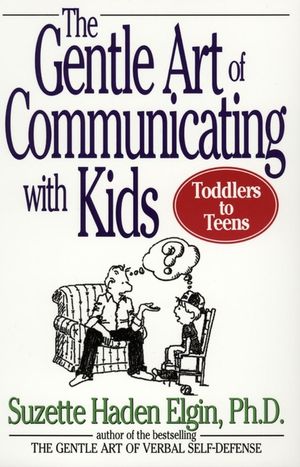 The Gentle Art of Communicating with Kids
ISBN: 978-0-471-03996-9
Feb 1996
208 pages
Description
Do you ever feel as if you and your child speak different languages?

Does your teenager fly into a rage when you ask a simple question?

Does your toddler wage the Battle of Bedtime each night?

Here's help from bestselling communications expert Suzette Haden Elgin. As the mother of five and grandmother of nine, Dr. Elgin has spent a lifetime talking with kids both personally and professionally. In this refreshingly direct and down-to-earth book, she shows you how to talk to your child about anything and everything--positively, productively, and above all, peacefully. Her personal approach employs realistic parent/child scenarios and dialogues to illustrate how it is possible to have communication without confrontation.

Her techniques will help you:
* Be a better listener
* Speak firmly, yet compassionately
* Spot early warning signs such as anger, sulking, and moodiness
* Handle a wide variety of problems, from bedtime and bathtime encounters to more serious issues such as self-esteem, teen pregnancy, and drug abuse
* Give special attention to the needs of a technically savvy "cyberchild"
Using the Language Traffic Rules.

Managing the English Verbal Attack Patterns.

Using Three-Part Messages.

Using the Satir Modes.

Using the Sensory Modes.

Special Communication Problems.

Conclusion.

Additional Resources.

The Gentle Art of Verbal Self-Defense--An Overview.

Bibliography.

Index.