The Germans and the Final Solution: Public Opinion Under Nazism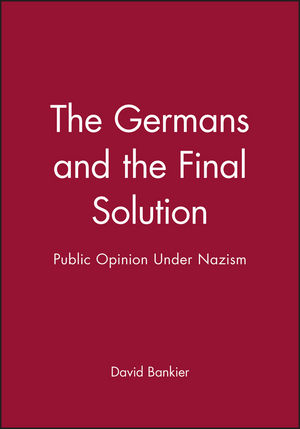 The Germans and the Final Solution: Public Opinion Under Nazism
ISBN: 978-0-631-20100-7
Jun 1996
216 pages
Description
The Germans and the Final Solution stand as the fullest assessment to date of the attitudes of the German public to the Nazi policy of antisemitism and its genocidal conclusion. David Bankier's pathbreaking work will be widely read by scholars and students of contemporary European Jewish history and the history of Nazi Germany.
Acknowledgements.
Introduction.
1. Image and Reality in the Third Reich.
2. Institutionalization and Radicalization.
3. International Crises and Foreign Policy.
4. Public Responses to Anti-semitism 1933-1938.
5. Workers, Peasants and Businessmen.
6. The Awareness of the Holocaust.
7. Public Responses to Anti-semitism 1939-1943.
8. Image and Reality - The End.
Conclusion.
Notes.
Bibliography.
"This is a subtle and well-documented argument that notably advances our understanding of German popular opinion towards the Nazis' anti-Semitic policies."
Inside Out
"A well written and important book that deserves to be widely read and to be placed in every public library." Times Higher Education Supplement
"Bankier's book will be welcomed by anyone teaching German history, Nazism, or the Holocaust, because it is the first book to answer comprehensively the most common student question in any discussion of the Holocaust: What did average Germans know and how did they feel about Hitler's antisemitic propaganda and mass murder?" Choice
* The first book to examine the collusion of ordinary German public opinion with Hitler's genocidal policies.
* Utilizes undiscovered documents and secret police reports.
* Examines a key period in European Jewish History, 1933-1945.