The Global Commons: Environmental and Technological Governance, 2nd Edition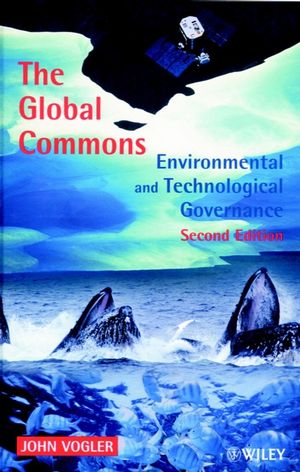 The Global Commons: Environmental and Technological Governance, 2nd Edition
ISBN: 978-0-471-98574-7 June 2000 272 Pages
Description
This new and updated edition is essential for those wanting to understand the limits to collective action on global environmental problems. It develops and applies the tools of regime analysis to the question of how the various global commons are, or fail to be, governed effectively.

Since the publication of the first edition of The Global Commons there have been many developments particularly in the area of climate change and sustainable development e.g. Agenda 21. This new edition has been extensively re-written and expanded to take into account recent developments and includes new conclusions on the connections between global and local commons. Involving the first systematic comparative analysis of governance regimes, the book covers:

* The Third Law of the Sea Convention, the deep seabed, whaling and marine pollution regimes

* Antarctica and the Madrid Protocol on Environmental Protection

* Outer space regimes for weapons, the operation of satellites and the emerging problem of orbital debris

* The global atmosphere, the Montreal Protocol for the protection of the stratospheric ozone layer and the developing climate change regime and the Kyoto Protocol.

The first edition received widespread praise eg "a comprehensive and incisive review of much relevant scholarship and case study material" (Area) and "a must for every reading list" (Progress in Human Geography) and this latest volume will also be invaluable for researchers and students of politics, environmental management, international relations and political geography.
Preface to the First Edition

Preface to the Second Edition

International Agreements on the Global Commons

Abbreviations and Acronyms

1 The Governance of the Commons

The Nature of the Commons

The Global Commons

The 'Tragedy of the Commons'

Governance and Regimes

Notes

2 Regime Analysis

Issue Areas

Actors

Principles and Norms

Decision-making Procedures

Rules

Regime Change

Notes

3 The Oceans

The Law of the Sea

Whaling

Marine Pollution

The Deep Seabed

Summary

Notes

4 Antarctica

The Antarctic Treaty System -
A Single Regime

Principles and Norms

Organization and Procedures

Rules

Monitoring and Enforcement

Scientific Activity

Summary

Notes

5 Outer Space

The Space Commons and Space Law

Military Uses

Environment and Space Debris

Information Flow

Orbit and Spectrum

Summary

Notes

6 The Atmosphere

Stratospheric Ozone

Climate Change

Summary

Notes

7 Regime Effectiveness

Effectiveness as International Law

Effectiveness as Transfer of Authority

Effectiveness as Behaviour Modification

Effectiveness as Problem Solving

Regime Assessment

Notes

8 Explaining Regime Incidence and Change

Structural Explanations

Utilitarian Explanations

Plural Interests and Values

Changing Cognitions -
Epistemic Communities

A Synthesis?

Notes

9 Conclusion

Global and Local Commons

Multi-layer Governance

Notes

References

Index