The Global Public Sphere: Public Communication in the Age of Reflective Interdependence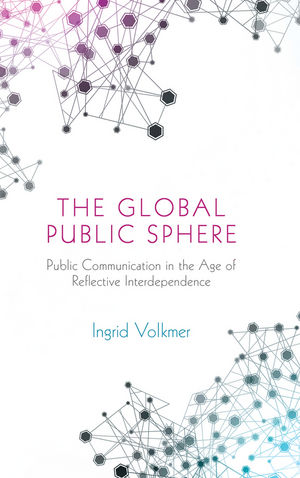 The Global Public Sphere: Public Communication in the Age of Reflective Interdependence
ISBN: 978-0-745-63958-1 August 2014 Polity 224 Pages
Description
Over the last several years, the debate about publics seems to have newly emerged. This debate critically reflects the Habermasian ideal of a (national) public sphere in a transnational context. However, it seems that the issue of a reconstruction of a global public sphere is more complex. In this brilliant and provocative book, Ingrid Volkmer argues that a reflective approach of globalization is required in order to identify and deconstruct key strata of deliberate public discourse in supra- and subnational societal formations. This construction helps to understand the new processes of legitimacy at the beginning of the 21st century in which the traditional conception of a 'public' and its role as a legitimizing force are being challenged and transformed. The book unfolds this key phenomenon of global deliberate interconnectedness as a discursive and negotiated dimension within 'reflective' globalization, i.e. continuously constituting, maintaining and refining the 'life' of the global public and conceptualizes a global public sphere.

Offering insightful case studies to illustrate this new theory of the global public sphere, the book will be essential reading for students and scholars of media and communication studies , and social and political theory.
Table of contents
Acknowledgements vi
Illustrations vii
Introduction 1
1 Public Territories and the Imagining of Political Community 11
2 Post-Territoriality in Spheres of 'Public Assemblages' 53
3 From 'Reflexive' Modernity to 'Reflective' Globalization:
The Public Space of 'Inbetween-Ness' 91
4 Public Interdependence, Interlocutors and the 'Matrix' of
Influence 129
5 From the Public Sphere to Public 'Horizons' 163
Notes 192
References 195
Index 215
Reviews
"Ingrid Volkmer is not looking at the future in terms of a projection from the past, but in terms of 'what is to come'. This shift of perspective makes a tremendous difference. Reading her book becomes a fascinating eye-opening experience because we then "see" how the still dominant assumptions about nation-state organized publics, mass-media consumption, and so on, are blinding us to the new emerging personal networked realities that link individuals across world regions in 'lived' global public spaces."
Ulrich Beck, University of Munich

"Where now do we think, reflect and deliberate? Can the complexities of today's political reflexivities be contained within the borders of national territory? In this exhilarating and diversely grounded book, Ingrid Volkmer compels us to develop new and conceptually challenging answers to these questions. It is a landmark work of scholarship for the age of communicative globalization."
Nick Couldry, London School of Economics and Political Science

"Few concepts have been as central to understanding the interrelationship among individuals, civil society and the state as Habermas's 'public sphere'.  And few scholars have addressed the need to rethink this concept in light of globalization and the spread of digital communication with the sophistication demonstrated by Ingrid Volkmer in The Global Public Sphere."
Michael X. Delli Carpini, Annenberg School for Communication, University of Pennsylvania
Features
A brilliant and provocative piece of critical theory.
Outlines an original approach to the influential concept of the public sphere.
Takes a transnational perspective, which is at the cutting edge of debates.
Includes case studies on the BBC, CNN and Al-Jazeera.