The Global Third Way Debate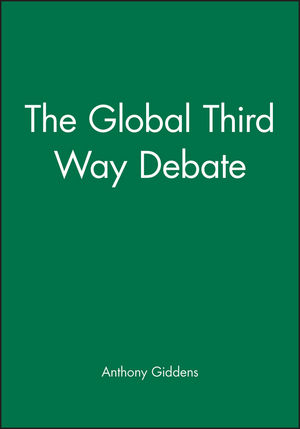 The Global Third Way Debate
ISBN: 978-0-745-62742-7 April 2001 Polity 448 Pages
Description
Left-of-centre governments are currently in power in many countries. In greater or lesser degree, all have moved away from traditional doctrines and policies of the left, recognizing that left values have to be pursued by different means today. The term 'third way' has become a widely accepted, if controversial, label understood by many modernizing social democrats to refer to these attempts at ideological and policy innovation. The debate that has arisen around these developments is a truly world-wide one, stretching from the US and Europe through to Asia, Australasia and Latin America.
Anthony Giddens has been perhaps the foremost contributor to the global third way discussion. In this book he has brought together some of the key contributions from around the world. Articles included cover, among other topics: the development of the third way policies in EU countries; welfare institutions and welfare reforms; economic and social policy; trust, the civic order and government; the strains and stresses of democracy; the regulation of corporate power; ecological modernization; the third way viewed from the South; global governance.

This book will be of interest to everyone concerned with the future of progressive politics. It provides perhaps the most comprehensive and integrated account to date of core developments in leftist political thinking.
Table of contents
The Contributors.
Acknowledgements.
Publisher's Note.
Introduction: Anthony Giddens.
Part 1: One Or More Third Ways?.
1 Mark Latham: The Third Way: An Outline Statement.
2 Stephen Driver and Luke Martell: Left, Right And The Third Way.
3 Wolfgang Merkel: The Third Ways Of Social Democracy.
4 Thomas Meyer: From Godesberg To The Neue Mitte: The New Social Democracy In Germany.
5 Paul Dalziel: A Third Way For New Zealand?.
6 William A Galston and Elaine C Kamarck: Five Realities That Will Shape 21st Century US Politics.
Part 2: The Welfare State, Social Policy and Inequality.
7 Maurizio Ferrera, Anton Hemerijck and Martin Rhodes: The Future Of Social Europe: Recasting Work and Welfare In The New Economy.
8 Gosta Esping-Anderson: A Welfare State For The 21st Century.
9 James Midgley: Growth, Redistribution and Welfare: Toward Social Investment.
10 Ronald Dworkin: Does Equality Matter?.
11 Anthony Giddens: The Question Of Inequality.
12 Vito Tanzi: Taxation and The Future Of Social Protection.
13 Lutz Leisering and Stephen Leibfried: Paths Out Of Poverty: Perspectives On Active Policy.
14 David Downes: The Macho Penal Economy: Mass Incarceration In The US, A European Perspective.
15 Helen Wilkinson: The Family Way: Navigating A Third Way In Family Policy.
16 Anne-Marie Guillemard: Work Or Retirement At Career's End: A Third Way Strategy For An Aging Population.
Part 3: Government, Democracy and Economic Power.
17 Joseph Nye: In Government We Don't Trust.
18 Yves Meny: Five (Hypo) Theses On Democracy and Its Future.
19 Benjamin Barber: How To Make Society Civil and Democracy Strong.
20 Mike Allen: Stakeholding By Any Other Name: A Third Way Business Strategy.
21 Simon Szreter: A New Political Economy; the Importance Of Social Capital.
22 Hugh Collins: Is There A Third Way in Labour Law?.
.
Part 4: A Global Third Way.
23 Michael Jacobs: The Environment, Modernity and The Third Way.
24 Joseph Stilitz: An Agenda for Development for the Twenty-First Century.
25 Luiz Carlos Bresser Pereira: The New Left Viewed From the South.
26 Ethan B Kapstein: The Third Way and The International Order.
27 Michael Edwards: Humanising Global Capitalism: Which Way Forward?.
28 David Held: Regulating Globalisation? The Reinvention of Politics.
Index
Reviews
'This book widens the debate to worldwide issues.'
Iain Dale, Bookseller Buyer's Guide
'Anthony Giddens has been one of the most prominent participants in recent debates about the future of social democracy; his ideas have provided intellectual support for the new Labour project ... Whether one is sympathetic or sceptical [about the third way debate], this book provides an excellent starting point for understanding current developments in social-democratic thinking.' Times Higher Education Supplement

'With an impressive range of international contributors, this book provides a real sense of context to what can, on occasion, be a depressingly narrow debate.' Mark Perryman, New Statesman

'In a word, this book covers a lot ... Giddens has mined the richest corners of the fullest lodes. No collection is better illustrative of third way arguments ... The Global Third Way Debate is a premier state-of-the-art volume, an indispensable reference for students and citizens.' Millennium

"It may be too early for an obituary for the third way, but Giddens' assessment of neoliberalism-too socially corrosive to provide a lasting political formula-might one day soon come in handy." Canadian Journal of Political Science

"This excellent volume raises many important questions. It should be read and debated by anyone interested in working for a liveable planet." British Journal of Sociology

"The book is a success....In this way the book serves as a useful introduction to some of the best recent on the future of progressive governance - as a sort of intellectual cheese sampler, offering alot of small but tasty portions that, whet the appetite for more." Frank Cass Publishers

"...the third way has become the only way...For this reason alone it is important that we shouldinform ourselves about it and here is no better way to do this than to read this book". Stephen Ryan, University of Ulster.

"With so many high quality chapters, this book will undoubtedly prove valuable to any student or academic who is interested in current debates on social, environmental and economic policy, the welfare state and the more general relations between state and society in late modernity." Environmental Politics
What's New
1. Anthony Giddens is the leading contributor to the world-wide discussion about third way politics. This book provides a vital source book to go alongside The Third Way and The Third Way and its Critics.

2. Unlike most contributions to the third way debate the book has a strong global emphasis, with contributions drawn from many parts of the world.

3. The most thorough-going and far-reaching work on the third way yet to appear.

4. Includes a substantial new introduction by Anthony Giddens