The Globalization of Chinese Companies: Strategies for Conquering International Markets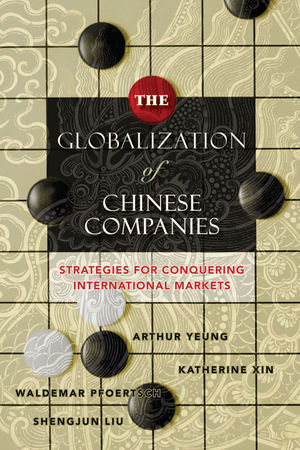 The Globalization of Chinese Companies: Strategies for Conquering International Markets
ISBN: 978-0-470-82878-6 May 2011 224 Pages
Description
China business experts analyze the next wave of Chinese corporate giants as they emerge into the global marketplace
The rise of China and its major corporations will be a key economic development in this century. Even as leading Chinese firms show their muscle through ambitious acquisitions of firms like Thinkpad and RCA, many western investors and business leaders know little or nothing about them. This book looks at the rise of Chinese firms, who they are, how they'll change the global competitive landscape, their strengths and weaknesses, and how established western firms might meet the challenges and opportunities this trend presents.
Throughout the book, the authors examine and highlight the major differences between Chinese and western firms, particularly differences related to corporate leadership and organizational structure, how and why they choose M&A targets, global workforces, and political issues like unionization.
A comprehensive, expert examination of emerging Chinese global corporations and how they will affect the global economy
Ideal for investors and executives of western companies
Written by a team of top China business experts and curated by the editor of the Chinese edition of the Harvard Business Review
For anyone who wants to understand the future of Chinese companies and the opportunities and challenges their global emergence will present, The Globalization of Chinese Companies offers comprehensive, expert insight.
Acknowledgments.
Preface.
Chapter 1: Reaching Out.
Chapter 2: Realities and Aspirations.
Chapter 3: The Strategic Choices: Think Before You Jump.
Chapter 4: All Roads Lead to Rome: Paths to Globalization.
Chapter 5: People First: Building Global Competence.
Chapter 6: Unity in Diversity: Shaping a Global Mindset.
Chapter 7: Providing the Right Support: Structuring Global Governance.
Chapter 8: China-rooted Global Outreach.
Appendix 1: China National Aviation: A Comprehensive Strategy.
Appendix 2: CIMC Realizes Globalization with a National Competitive Edge.
Appendix 3: The Utilization of Overseas Resources by CIMC.
Appendix 4: ZPMC's Global Strategy.
Appendix 5: China Mobile: Using Global Capital Resources to Build Value.
Appendix 6: Forming Strategic Alliances the Galanz Way.
Appendix 7: Trend Micro's Hybrid Team.
Appendix 8: Talent Development in the Lenovo Group.
Appendix 9: Chinese Global Fortune Companies 2008/09.
Appendix 10: Self-assessment.
Appendix 11: Action Plan.
Bibliography.
Index.