The God Debates: A 21st Century Guide for Atheists and Believers (and Everyone in Between)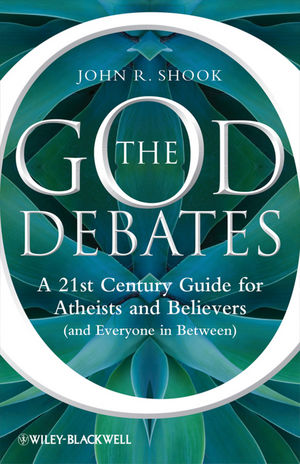 The God Debates: A 21st Century Guide for Atheists and Believers (and Everyone in Between)
ISBN: 978-1-444-33641-2 October 2010 Wiley-Blackwell 241 Pages
Description
The God Debates presents a comprehensive, non-technical survey of the quest for knowledge of God, allowing readers to participate in a debate about the existence of God and gain understanding and appreciation of religion?s conceptual foundations.
Explains key arguments for and against God's existence in clear ways for readers at all levels
Brings theological debates up to the present with current ideas from modernism, postmodernism, fideism, evidentialism, presuppositionalism, and mysticism
Updates criticism of theology by dealing with the latest terms of the God debates instead of outdated caricatures of religion
Helps nonbelievers to learn important theological standpoints while noting their shortcomings
Encourages believers and nonbelievers to enjoy informed dialogue with each other
Concludes with an overview of religious and nonreligious worldviews and predictions about the future of faith and reason
Buy Both and Save 25%!
Original Price:$155.90
Purchased together:$116.93
save $38.97
Cannot be combined with any other offers.
Preface ix
1 Debating Religion 1
1.1 Religion under Scrutiny 2
1.2 Debating Dogma 7
1.3 Theology and Atheology 12
1.4 Could Atheism Prove God Doesn't Exist? 23
1.5 Could Religion Disprove Atheism? 26
2 Five Types of Theologies 30
2.1 Categorizing Theologies 31
2.2 Theology From The Scripture 35
2.3 Theology From The World 37
2.4 Theology Beyond The World 40
2.5 Theology In The Know 42
2.6 Theology Into The Myst 44
3 Theology From The Scripture 47
3.1 Scientific History 48
3.2 Scientific History and Scripture 51
3.3 The Argument from Divine Signs 65
3.4 The Argument from Apostolic Faith 70
3.5 The Argument from Divine Character 78
3.6 The Argument from Pseudo-history 80
4 Theology From The World 84
4.1 Theology and Science 85
4.2 Arguments from Nature 91
4.3 Arguments from Design 96
4.4 Arguments from Religious Experience 99
4.5 Arguments from Morality 110
4.6 Explanations for Reason 121
4.7 The Ontological Argument for God 126
4.8 The Argument from Pseudo-science 131
5 Theology Beyond The World 133
5.1 The Existence of Nature Argument for God 134
5.2 The Fine-tuning Argument for God 137
5.3 Why Would God Create? 144
5.4 The Problem of Evil 148
5.5 The Argument from Pseudo-cosmology 152
6 Theology In The Know 155
6.1 Arguments from Ignorance 156
6.2 Religious Epistemologies 160
6.3 Knowledge, Justification, and Truth 166
6.4 The Religious Community 171
6.5 The Arguments from Pseudo-theology 178
7 Theology Into The Myst 184
7.1 Believing in God without Knowledge of God 185
7.2 Believing in God without Concepts of God 192
7.3 Belief, Faith, and Pseudo-faith 198
7.4 The Argument from Pseudo-faith 202
8 Reason and Faith 204
8.1 Liberal Modernism and Its Rivals 205
8.2 Twelve Worldviews 211
8.3 Faith and Reason Realigned 218
References 223
Further Reading 230
Index 235
""I do, however, think that the book will enable readers to enter into debates about God in a fully rational way, and with an awareness of the complexities of theistic arguments. It is one for students of the philosophy of religion to study, and they will do so with profit."" (Church Times, 20 May 2011)  
""As a philosophy instructor (who frequently teaches philosophy of religion), I find Shook's book to be comprehensive in its coverage.  The theological arguments, as well as the atheological responses to them, are presented in accessible terms, and analyzed perspicuously.""  (Metapsychology, February 2011)
 ""In this talk, The Center for Inquiry's John Shook, author of The God Debates, will discuss effective ways for nonbelievers to engage believers over that very question: ""Does a god exist?"" Maybe it's not the old, familiar arguments themselves, but new strategies and tactics that make the atheist message get heard and produce results."" (Science in the City, February 2011)
""The God Debates is a clear, accessible, up-to-date account of philosophical wrangles about the existence of God. Shook re-organises the arguments in an interesting way ... [and] takes on more esoteric arguments such as the claim that we must presuppose the existence of God if we are to engage in reasoning and scientific inquiry. In all, this is a lucid, concise, up-to-date, yet comprehensive account of intellectual debates about the existence of God. It is easy enough to be used by senior high school students, and could certainly be useful in undergraduate courses in philosophy of religion."" (Metamagician and the Hellfire Club, October 2010)