The Goffman Reader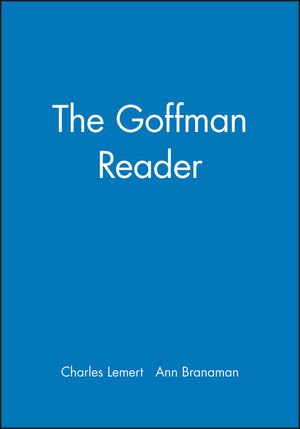 The Goffman Reader
ISBN: 978-1-557-86893-0 July 1997 Wiley-Blackwell 372 Pages
Description
The Goffman Reader aims to bring the most complete collection of Erving Goffman's (1922-1982) writing and thinking as a sociologist. Among the most inventive, unique and individualistic of thinkers in American sociology, his works first appeared in the early 1950's at a time when a more formal, traditional sociology dominated the scene. In this collection, Goffman's work is arranged into four categories: the production of self, the confined self, the nature of social life, and the framing of experience. Through this arrangement, readers will not only be presented with Goffman's thinking in chronological order, but also with a framework of analysis that clearly introduces the social theoretical ideas by which Goffman shaped the direction of sociological thought through the late twentieth century.
Table of contents
"Goffman" by Charles Lemert.
Goffman's Social Theory by Ann Branaman.
Part I: The Production of Self:.
1. Self Claims On Cooling the Mark Out: Some Aspects of Adaptation to Failure.
2. Self-Presentation The Presentation of Self in Everyday Life.
3. The Self as Ritual Object The Nature of Deference and Demeanor.
4. The Self and Social Roles Role Distance.
Part II: The Nature of Social Life:.
5. Social Life as Drama The Presentation of Self in Everyday Life.
6. Social Life as Ritual On Face-Work The Structure and Function of Situational Properties Supportive and Remedial Interchanges.
7. Social Life as Game Fun in Games Where the Action Is Strategic Interaction.
Part III: The Confined Self: .
8. Status, Territory, and the Self Territories of the Self.
9. The Mortified Self On the Characteristics of Total Institutions The Moral Career of the Mental Patient.
10. The Stigmatized Self Stigma.
11. The Recalcitrant Self The Underlife of a Public Institution.
Part IV: Frames and the Organization of Experience:.
12. Frame Analysis Frame Analysis.
13. Frame Analysis of Talk Felicitys Condition.
14. The Frame Analysis of Gender The Arrangement Between the Sexes Gender Displays.
15. Social Interaction and Social Structure. The Neglected Situation. The Interaction Order.
Bibliography: Erving Goffmans Writings.
Bibliography: Secondary Literature.
Acknowledgements.
Index.
Reviews
"Now, thanks to a well-conceived and elegantly introduced selection of his writings by Charles Lemert and Ann Branaman, those familiar with Goffman can be stimulated once more."
Charles Edgley, Oklahoma State University
"As readers go, this one, like the genius it celebrates, is truly something special." Charles Edgley, Oklahoma State University
What's New
* Includes excerpts from his most famous works The Presentation of Self in Everyday Life, Stigma, and Asylums along with lesser known pieces taken from journal articles.
* Extremely thorough and analytical introduction written by the editors Charles Lemert and Ann Branaman.
* Presents Goffman's work from a critical perspective to reflect the controversial nature of his work.