The Good Corporate Citizen: A Practical Guide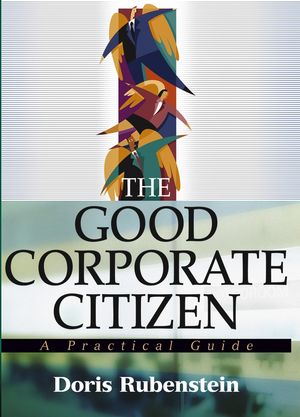 The Good Corporate Citizen: A Practical Guide
ISBN: 978-0-471-65684-5 May 2004 224 Pages
Description
Corporate citizenship refers to the way a company integrates basic social values with everyday business practices, operations and policies. A corporate citizenship company understands that its own success is intertwined with societal health and well being. Therefore, it takes into account its impact on all stakeholders, including employees, customers, communities, suppliers, and the natural environment.

This handbook draws from the author?s experience crafting and implementing philanthropic and volunteer strategies with companies such as IBM, Exxon, Mobil, 3M, and General Mills. A step-by-step primer on creating a comprehensive corporate citizenship program, The Good Corporate Citizen lays out how companies can maximize this exciting new trend.

Doris Rubenstein (Minneapolis, MN) has worked for over 25 years with some of America?s most respected nonprofit organizations.
Foreword.
Preface.
Acknowledgments.
Part One: Background.
Chapter 1. Philanthropy and Corporate Citizenship.
Chapter 2. Why Conduct a Corporate Citizenship Program?
Chapter 3. Who Gives?
Part Two: Practical Guidance for Planning Your Program.
Chapter 4. Choosing the Decision Makers and Procedures.
Chapter 5. Defining the Mission.
Chapter 6. Scheduling.
Chapter 7. Budgeting and Financial Administration.
Chapter 8. Identify Internal Areas for Impact.
Chapter 9. Ways of Giving.
Chapter 10. Relating Corporate Citizenship Activities to the Company's Products, Services, and Mission.
Chapter 11. Researching Possible Investments.
Chapter 12. Assessment.
Chapter 13. Selecting Grant Recipients.
Chapter 14. Postgrant Evaluation.
Chapter 15. Celebrations and Publicity.
Chapter 16. Review and Revision.
Part Three: Appendices.
Appendix A: Sample Plans.
Appendix B: Sample Form Letters.
Appendix C: Sample Scholarship Letters of Agreement.
Appendix D: Selected Resources for Corporate Citizenship Planning and Education.
Bibliography.
Notes.
Index.
""This book is highly recommended."" (Tulsa Business Journal, 4/15/2004)