The Good News About Careers: How You'll Be Working in the Next Decade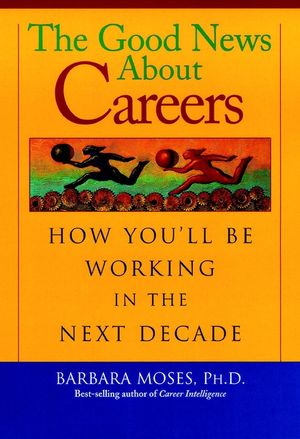 The Good News About Careers: How You'll Be Working in the Next Decade
ISBN: 978-0-787-95269-3 March 2000 Jossey-Bass 256 Pages
Description
Devoid of real job security, today's working environment can be a scary place. But the good news is that, with its emphasis on freedom and flexibility, the new economy also provides individuals with incredible opportunities for self-experimentation and expansion into different roles. In this powerfully candid work, acclaimed career counselor Barbara Moses shows individuals and managers how they can profit from future work trends. She offers professionals clear advice on how to maintain self-authenticity in a shifting career landscape-how to work for "Me, Inc."--and gives managers concrete suggestions for leading the organizations of today and tomorrow. It's a solid guide that offers inspiration and sound ideas for finding liberation, satisfaction, and success in an uncertain world.
Table of contents
THE NEW WORKPLACE.
The Cult of Busyness.
The New Obsession with Work.
Living and Working in TempWorld.
On Being a Player.
What We Didn't Do on Vacation.
Why the Grass Isn't Always Greener...
THE NEW WORKER.
The Search for Authenticity.
What Kind of New Worker Are You?
Career-Defining Moments.
Who Will Win? Introverts vs. Extroverts.
20 Something Career Angst.
"Hey 40-Something, I'm Talking to You!"
"Hey 20-Something, I'm Talking to You!"
"Hey 20-Something/40-Something, Shut Up Already!"
What 20-Somethings Ask About Work and Careers.
How to Career-Proof Your Children.
THE NEW MANAGER.
The New Employment Contract Comes Home to Roost.
Ten Strategies for Managing the New Worker.
Old Worker vs. New Worker.
The Coaching Boom.
The Manager as Career Coach.
Mentors Show the Way.
How to Give People a Belief in the Future.
A NEW SET OF SKILLS.
Become a Career Activist.
On Selling Yourself.
The Right and Wrong Ways to Network.
Communicating on Fast Forward.
"Don't Take THis Personally, But..."
The Politics of Bad Fit.
Recession-Proofing Your Career.
Conclusion: The Good News about Careers.
Reviews
"Moses, a career guru? offers a truly useful guide to career activism." (Fast Company)
"Moses, whose book Career Intelligence, was a Canadian best-seller, offers an astute, refreshingly jargon-free, and essentially hopeful analysis of the conditions of the new working world." (The Toronto Star)