The Gospel of Father Joe: Revolutions and Revelations in the Slums of Bangkok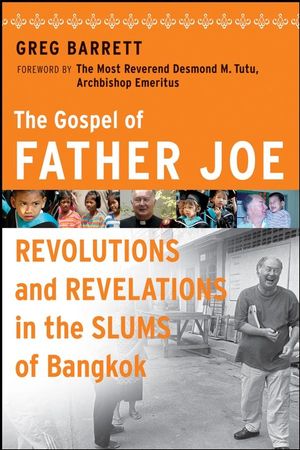 The Gospel of Father Joe: Revolutions and Revelations in the Slums of Bangkok
ISBN: 978-0-470-32803-3
Jun 2008, Jossey-Bass
240 pages
Description
Three decades ago in a cordoned-off corner of the developing world an angry Catholic priest armed only with pencil, paper, and crayons, declared a revolution. From a shanty school shared with Buddhists and Muslims in Bangkok's squatter slums, Father Joe Maier began his advance on abject poverty. Today, his Human Development Foundation and Mercy Centre charity is responsible for thirty-two preschools that have taught more than twenty thousand children how to read and write. Despite the crippling neglect found in impoverishment, he is raising international scholars and injecting a sense of purpose into shantytowns and squatter camps that used to have neither.
Foreword.
Prologue.
PART I: THE CRUCIBLE.
1. Mustard Seeds.
2. The Joe in the Know.
3. Undeveloped, Unpaved Parallels.
4. Rise of the Underground.
5. Smitten.
6. Where Right Equals Might.
PART II: MANIFEST CHANGE.
7. Sticks, Stones, and Bags of Bones.
8. Dead End or Turnaround?
9. The Sanctity and Sanctimony of Life.
10. Wars on Terror.
11. Religious Medal, Spiritual Mettle.
12. Forged by Mercy and Mary.
13. Any Dream Will Do.
PART III: THE LIGHT.
14. Weapons of Mass Construction.
15. Fruit of the Spirit.
16. Elvis.
17. Devil in the Details.
18. Mercy's Mercy.
19. Slaves of the Economy.
Epilogue.
The Author.
"While he stops short of calling Maier the Christ figure who works the water-to-wine miracle, Barrett makes it clear that Maier comes awfully close." – The Christian Century (Oct 21, 2008)
"Barrett, a veteran journalist, records the inspiring work of Catholic priest Joe Maier in Bangkok's slums. Drawn to service in Thailand on a whim, the misfit American seminary student found a calling among the Thai downtrodden, even living in the slums himself. . . . many of the stories are memorable, from the tragic (street toddlers, happily schooled at Mercy, later dying there of HIV/AIDS), to the triumphant (Mercy graduates who attend college abroad and are able to climb out of poverty)."--from Publisher Weekly's Religion Bookline
"Based on his own meetings with Father Joe, his keen observer's eye, and on numerous early-morning interviews in Bangkok's Lumpini Park, where the priest engages in his daily run, Barrett tells his story sometimes with the objectivity of the experienced journalist he is, but also often as a poet, deeply stirred by the poignant contrasts between the deprivation of the slum-dwellers and the material excesses of the contemporary developed world in which he and his family live."--from Huffingtonpost.com
"The book is partly a story of the two men's friendship, part biography and part a detailing of Father Joe's beliefs about life and the world. It is boosted along by Barrett's writing, which is clear, thoughtful and pleasingly devoid of cliches. Barrett presents a well-rounded picture of Father Joe — compassionate, ornery and, in the opinion of some colleagues, an eccentric." -- from Gannett News Service
"Barrett writes beautifully about the connection Father Joe has with the small children, the older 'street kids' and those suffering with HIV and AIDS. They are not statistics but children with names who need to be loved… His positive, ever forward-looking approach is what these children need to survive and to advance in life." – from The Catholic Review
"…Barrett's depiction of the slums and of the heroic effort and love of this priest inspires the best of humanity against the backdrop of the worst of the human condition." -- from The Mirror Online's Book Nook