The Governance of Climate Change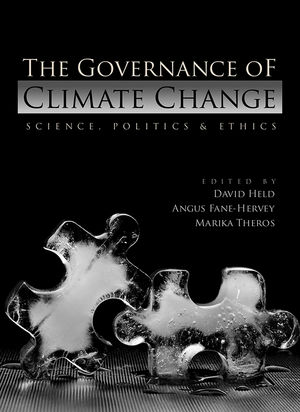 The Governance of Climate Change
ISBN: 978-0-745-63783-9 May 2013 Polity 240 Pages
Download Product Flyer
Download Product Flyer
Download Product Flyer is to download PDF in new tab. This is a dummy description. Download Product Flyer is to download PDF in new tab. This is a dummy description. Download Product Flyer is to download PDF in new tab. This is a dummy description. Download Product Flyer is to download PDF in new tab. This is a dummy description.
Description
Climate change poses one of the greatest challenges for human society in the twenty-first century, yet there is a major disconnect between our actions to deal with it and the gravity of the threat it implies. In a world where the fate of countries is increasingly intertwined, how should we think about, and accordingly, how should we manage, the types of risk posed by anthropogenic climate change?
The problem is multi-faceted, and involves not only technical and policy specific approaches, but also questions of social justice and sustainability. In this volume the editors have assembled a unique
range of contributors who together examine the intersection between the science, politics, economics and ethics of climate change. The book includes perspectives from some of the world's foremost commentators in their fields, ranging from leading scientists to political theorists, to high profile policymakers and practitioners. They offer a critical new approach to thinking about climate change, and help express a common desire for a more equitable society and a more sustainable way of life.
Table of contents
Editor's Introduction
Part 1: The Challenge of Climate Change
1 The Challenge of Climate Change
Sir David King
2 Climate Change, Science and Society
Martin Manning
3 Global Shocks, Global Solutions: Meeting 21st Century Challenges
Ian Goldin
4 Economics Piece
Alex Bowen and James Rydge
5 Democracy, Climate Change, and Global Governance
David Held and Angus Fane-Hervey
6 'Until the Last Ton of Fossil Fuel Has Burnt to Ashes': Climate Change, Global Inequalities, and the Dilemma of Green Politics
Ulrich Beck and Joost van Loon
Part 2: Social Justice and Sustainability
7 Social Justice and Sustainability: Elastic Terms of Debate
Baroness O'Nora O'Neill
8 Changing Values for a Just and Sustainable World
Peter Singer
9 The Ends of Justice: Climate Vulnerability Beyond the Pale
Michael Mason
Part 3: Where to from here?
10 Green Peace: Energy, Europe, and the Global Order
David Miliband
11 The Politics of Climate Change
Edward Miliband
12 International climate policy after Copenhagen: towards a 'building blocks' approach
Robert Falkner, John Vogler and Hannes Stephan
Reviews
"Quotes from the text are certain to be hallmarks of student essays on the subject for years to come. A vital snapshot of the contemporary climate change arena."
Political Studies Review
"A refreshing addition to the growing literature in several respects, most notably for its direct attention to the question of framing. This volume incorporates a range of thoughtful scientific, economic and ethical arguments plus an excellent overview."
International Affairs
"A useful resource for understanding the complex and multi-faceted challenge."
Global Journal
"This book, which includes contributions from prominent climate change experts from across a range of disciplines, provides insightful and innovative commentary on the nature of climate change and the future of climate change governance. The fresh perspectives offered and the extensive expertise of the contributors make this book a must-read for anyone interested in climate policy."
Rajendra Pachauri, Chairman, Intergovernmental Panel on Climate Change
"In their book The Governance of Climate Change: Science, Politics and Ethics, David Held, Angus Hervey and Marika Theros have assembled an extraordinary panel of both insiders and analysts of the climate change regime. It is an up-to-date, very thoughtful assessment of where we are in the difficult process of global action on climate change. An excellent base for understanding why it is so difficult to agree and why we need to."
Laurence Tubiana, Director, Institute for Sustainable Development and International Relations
Features
An important new collection based on a series of recent Miliband lectures.
Leading figures discuss the pressing issues of climate change and sustainability.
This features contributions by Ulrich Beck, Onora O'Neill, Peter Singer, and Ed and David Miliband.
This will be of particular interest to scholars, students and policy-makers in development studies, politics, international relations and social policy.