The Grantwriter's Start-Up Kit: A Beginner's Guide to Grant Proposals Set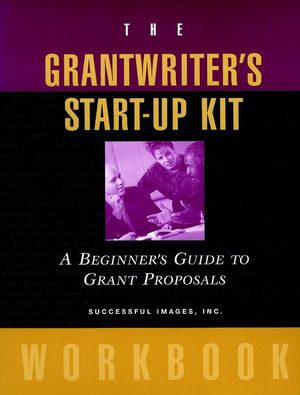 The Grantwriter's Start-Up Kit: A Beginner's Guide to Grant Proposals Set
ISBN: 978-0-787-95232-7
Dec 1999, Jossey-Bass
80 pages
Description
"This video makes the basics of grant writing easy to understand. The many examples scattered throughout the video make the abstract ideas more concrete. The graphics are well done and the pace gives the viewer time to absorb the material and even take notes. Anyone should be able to write a simple grant proposal after watching this video."

--Ann Marston, president and CEO, Michigan League for Human Services

Fundraisers are often intimidated by the prospect of writing grant proposals. But missing a grant opportunity can mean losing important programs and essential services. For the fundraiser in need of practical skills and guidance, The Grantwriter's Start-Up Kit shows how to prepare for the process of writing a successful grant proposal.

The video and companion workbook are specifically designed to help you streamline your efforts and avoid common mistakes.

Take the first step by watching this informative and engaging video. You will learn about the key elements of a winning proposal and gain invaluable insights from professionals in the field. The presenters draw from their extensive knowledge and experience in grantwriting and grantmaking to offer direct and succinct advice. They share wisdom not only from those who write proposals, but also from the foundations that approve the proposals.
START-UP EXERCISES.

Identifying a Fundable Project or Program.

Pinpointing the Need Your Project Will Fill or the Problem It Will Solve.

Developing Clearly Stated Objectives.

Establishing the Methods You Will Use.

Laying the Groundwork for Your Evaluation Plan.

Identifying Sources for Future Funding.

Getting Ready to Develop a Budget for Your Project or Program.

RESOURCES.

A. The 12 Key Elements of a Grant Proposal.

The Cover Letter -- Sample Cover Letter.

Title Page -- Sample Title Page

Table of Contents -- Sample Table of Contents.

The Summary -- Sample Summary.

The Introduction -- Sample Introduction.

The Problem or Need Statement -- Sample Need Statement.

Program Objectives -- Sample Objectives.

Methods -- Sample Methods.

The Evaluation Plan -- Sample Evaluation Criteria

Plans for Future Funding -- Sample Future Funding Section.

The Budget -- Sample Three-Part Vertical Drop Budget.

The Appendix.

B. Some Tips on Strategy and Structure.

Why Some Proposals Get Funded and Some Do Not.

Conclusion: Where Do You Go from Here?
"The Grantwriter's Start-Up Kit gives the nonprofit director or program manager a powerful set of skills and the self-confidence to compete successfully and professionally for grants and contracts. This is the best foundation for successful grantswriting I have ever seen." (Jim Seroka, professor and director, Center for Governmental Services, Auburn University, Alabama)

"I have used The Grantwriter's Start-Up Kit as part of grant workshops and found it very upbeat and motivating." (Kathryn Gerstman, director of resource development, Broward Community College, Florida)