The Graphic Designer's Guide to Creative Marketing: Finding & Keeping Your Best Clients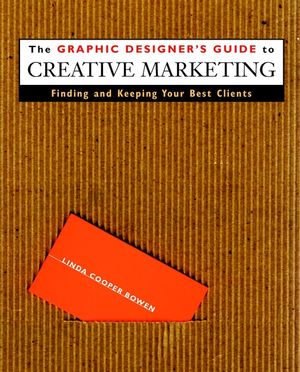 The Graphic Designer's Guide to Creative Marketing: Finding & Keeping Your Best Clients
ISBN: 978-0-471-29314-9
Mar 1999
192 pages
Description
You know you've got the talent, now let them know it-your complete guide to finding, winning, and keeping good clients Written by a graphic designer and successful marketing consultant, this book is the most complete guide available to marketing your services, with clear, practical, step-by-step instructions on every aspect of graphic design marketing, including:
* Developing and implementing a marketing plan
* Researching prospective clients
* Creating effective marketing materials
* Cold calling and follow-ups
* Effective communication
* Dressing for success
* Resumes, cover letters, and portfolios
* Proposals, bids, and contracts
* Keeping good clients-account management
Also included are sample business forms, contracts, proposals, letters, and checklists, along with stunning full-color examples of successful self-promotion campaigns for every budget. Throughout the book, there are fascinating and instructive interviews with clients as well as graphic designers from across the country who share what they've learned about marketing and managing graphic design services.
What is Marketing?

The Role of the Marketing Account Manager/Rainmaker: or How To Do It Yourself.

The Internal Audit: The Foundation of a Realistic Business Plan.

The External Audit: A Reality Check.

Targeting and Tracking: How to Find the Best Clients.

Positioning and Image.

The Marketing and Self-Promotion Program.

Successful Marketing Programs.

Account Management Skills: Keeping the Client.

Continuing Education: The Thinking Designer.

Index.