The Great Depression of Debt: Survival Techniques for Every Investor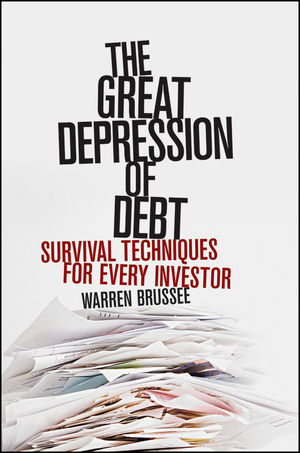 The Great Depression of Debt: Survival Techniques for Every Investor
ISBN: 978-0-470-45344-5
Jan 2009
320 pages
Description
This book takes a close look at today's economy and offers a bleak prediction for its future. However, those positioned to handle dramatic shifts in consumer spending, the mortgage industry, and the stock market are at a great advantage.

Author Warren Brussee offers insight into the coming economic situation and provides steps to prepare for it. For example, he recommends that savings be in Treasury Inflation Protected Securities until the stock market drops 73% from its 2004 level. Methods of determining when the stock market is again a good buy are defined, and different investment options are evaluated. Even during a depression, people will need to save for their future, and Brussee provides detailed charts that show retirement savings requirements.
Preface.
Acknowledgments.
Part I: The Essence of Why We Will Have a Depression.
Chapter 1: The Crazy Nineties.
Chapter 2: The Debt Bubble.
Chapter 3: Why Are the Good Times Ending and the Bubbles Breaking?
Chapter 4: Current Times Compared to 1929â??1930.
Chapter 5: What This Depression Will Be Like.
Chapter 6: What Else May Deepen the Depression.
Chapter 7: Could the Fed Have Stopped This Depression?
Chapter 8: Now That It Has Started, How Are We Going to Work Our Way Out of This Depression?
Part II: The Market Is Bad Now, But It Could Be Good In The Future.
Chapter 9: Why the Stock Market Is Currently a Bad Investment.
Chapter 10: When to Get Back Into the Stock Market.
Chapter 11: Once You Are Back in the Stock Market.
Part III: Surviving and Saving During the Coming Depression.
Chapter 12: How to Survive the Coming Depression.
Chapter 13: Saving Before and During the Depression.
Chapter 14: Retirement Savings Charts for People Planning to Retire in 15 to 40 Years.
Chapter 15: I Want To Retire Soon. How Much Money Will I Need?
Appendix A: Details on Using the Formula on 5â??, 10â??, and 20â?? Year Investing.
Appendix B: Derivation of the Savings Tables and Formulas.
Appendix C: Understanding Logarithmic Charts.
Appendix D: Key Numbers Used in Stock Market Calculations.
Glossary.
References.
About the Author.
Index.