The Great Marriage Tune-Up Book: A Proven Program for Evaluating and Renewing Your Relationship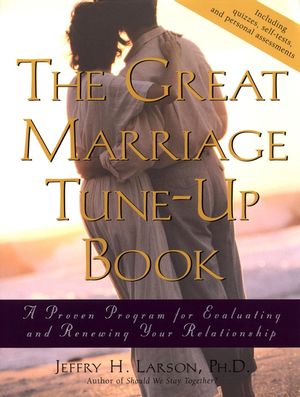 The Great Marriage Tune-Up Book: A Proven Program for Evaluating and Renewing Your Relationship
ISBN: 978-0-787-96212-8 October 2002 Jossey-Bass 176 Pages
Description
From Dr. Jeffry Larson-- the author of the best-selling Should We Stay Together? that was featured on the Today Show-- comes a must-have book for couples in a long-term relationship. All serious couples reach a point where they feel frustrated, stuck, bored, disillusioned, and misunderstood. But now, drawing on over fifty years of research in marital and family relationships, Dr. Larson provides helpful and easy-to-use quizzes, self-tests, and personal assessments that reveal why you're feeling this way, explain the underlying issues, and provide solutions to specific issues and problems. Throughout this practical book, Dr. Larson highlights strengths and weaknesses, and focuses on goals for improvement.
Introduction.

1. Overcoming Myths About Marriage: The Three Stages of Marriage It s Your Decision The Benefits of Knowing the Stages and Options MythsAbout Marriage That Sustain Problems Debunking theMyths Moving Beyond the Myths: What We Know.

2. The Marriage Triangle: Three FactorsThat Predict Your Marital Satisfaction;
Where the Research Came From Assessment andthe Marriage Triangle.

3. Factor 1: Your Individual Traits;Traits That Cause Marriage Problems The Role ofDysfunctional Beliefs Traits That Contribute to MaritalSatisfaction Two Especially Vital Traits Scoring andInterpretation Guidelines Guidelines for ImprovingPersonality Traits and Attitudes Two Key Attitudes forMarital Satisfaction Emotional Problems and PhysicalHealth Dysfunctional Beliefs That Hinder MaritalSatisfaction Adjusting for Differences Your Big Picture.

4 Factor 2: Your Couple Traits;
Couple Communication Assessment Exercise TheImportance of Communication Conflict ResolutionSkills Flooding and Soothing: A Negative Trait and aPositive Trait Intimacy: The Reason We Got Married Consensus Cohesion Dealing with Power Problems Scoring and Interpretation Guidelines More SeriousMarital Problems Your Big Picture.

5 Factor 3: Your Personal and RelationshipContexts;
Personal Context: Family-of-Origin Influences Relationship Context: Stressors Affecting Marriage Marriage Competitors: Work, Parenting, and OutsideInterests Scoring and Interpretation Guidelines Your Big Picture.

6 Your Own Personal Marriage Triangle:Putting the Three Factors Together;
Using the Summary Sheet Completing Your OwnSummary Sheet.

7 Additional Resources for Marriage Tune-Ups: Individual Traits Resources Couple Traits Resources Context Resources Organizations for MarriageEnrichment How to Find a Competent Therapist.

Notes.

The Author.