The Great Workplace: Building Trust and Inspiring Performance Facilitators Guide Set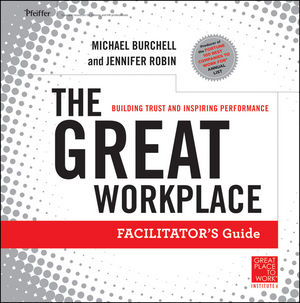 The Great Workplace: Building Trust and Inspiring Performance Facilitators Guide Set
ISBN: 978-0-470-59835-1 March 2011 Pfeiffer 144 Pages
Selected type:
Loose-leaf
Description
Praise for The Great Workplace Workshop
""If you're looking for a no-nonsense, step-by-step guide to creating a Great Place to Work®, this is all you need. Burchell and Robin understand exactly what it takes and serve it up in an accessible, ready-to-go way.""—Hal Adler, CEO, Leadership LandingTM and former president, Great Place to Work® Institute
""Creating a Great Place to Work® has never been more straightforward; for facilitators, it's like having the authors with you in the room guiding your steps as you take them. If you want to bring the Great Place To Work values alive in your organization, this is how to do it."" —Stacy McManus, principal, Park Spencer Group
What separates a Great Company from a merely good one? More than offering great pay and quirky perks, a great workplace is one where employees trust the people they work for, take pride in what they do, and are inspired to achieve superior performance.
Based on a many years of research and training conducted at the Great Place to Work® Institute—producers of the FORTUNE 100 Best Companies to Work For® Annual List—The Great Workplace: Building Trust and Inspiring Performance Workshop provides managers with a set of powerful, effective exercises that will help them understand the conceptual and practical considerations of creating a high-trust work environment. In the workshop, participants will:
Examine the essential elements of a Great Place to Work®, especially the crucial role of trust.

Build an understanding of the key role managers play in building a great workplace.

Identify opportunities and generate ideas for making change within the scope of their responsibility.

Gain practical tools for improving the quality of their work environment.
This Facilitator's Guide includes everything you need to conduct one-day and half-day workshops, including agendas, objectives, and scripts; tips, best practices, and exercises; a Participant Workbook and a Great Workplace Leadership Assessment; a poster and a takeaway card; and a flash drive with PowerPoint® presentations to accompany the workshops.