The Green Guide to Specification: An Environmental Profiling System for Building Materials and Components, 3rd Edition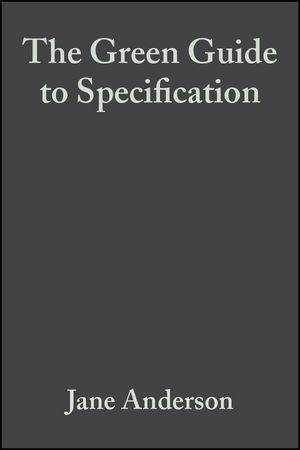 The Green Guide to Specification: An Environmental Profiling System for Building Materials and Components, 3rd Edition
ISBN: 978-0-632-05961-4
Feb 2002
112 pages
Description
How can you tell if the materials and components you are specifying have a low environmental impact? A full life-cycle assessment is a complex, time-consuming and expensive process; the environmental ratings summarised in this Guide provide a quick and easy way for designers and specifiers to assess their options.




The relative environmental performance of over 250 materials and components have been assessed in this guide, using carefully researched, quantitative data derived from the BRE Environmental Database. A wide range of alternative specifications are provided for:




· walls
· floor systems
· floor finishes
· roofs
· windows
· doors
· ceilings
· paints
· insulation
· landscaping.

The performance of each specification is measured against a range of environmental impacts including:

· climate change
· toxicity
· fossil fuel and ozone depletion
· levels of emissions and pollutants
· mineral and water extraction.

Environmental performance is indicated by a simple to use A-B-C rating system. To further aid specifiers, guidance on capital coasts, typical replacement intervals and information on recycling is also provided for each material and component.

An important part of BREEAM, the BRE's widely accepted scheme to improve the environmental performance of buildings, The Green Guide to Specification is an essential tool for architects, surveyors, building managers and property owners seeking to reduce the environmental impacts of building materials through informed choice.
Introduction;.
Background to the Green Guide to Specification;.
How the Green Guide to Specification was compiled;.
How to use the Green Guide to Specification;.
Green Guide ratings.
High-mass elements;.
Upper floor construction;.
Ground floors and substructure;.
Insulation;.
External walls;.
Superstructure.
Insulation.
Traditional cavity wall construction;.
'Rainscreen' claddings;.
Cladding and masonry;.
Cladding systems and framed construction;.
Roof Construction;.
Insulation;.
Flat roofs;.
'Traditional' pitched roofs.
Low pitched metal deck and roof cladding;.
Medium and Low-mass elements;.
Floor finishes and coverings.
Hard floor finishes.
Soft floor coverings;.
Substructural floor systems/floor surfacing;.
Windows and curtain walling;.
Internal walls and partitioning;.
Load bearing partitions.
Non-load bearing partitions;.
Proprietary and demountable partitions;.
Suspended ceilings and ceiling finishes;.
Doors;.
Other materials and elements.
Internal paint finishes;.
Insulation;.
All insulations (including those using HCFC's).
Zero ozone depletion potential (ZODP) insulations.
Landscaping: hard surfacing;.
Landscaping; boundary protection;.
Part IV Appendices;.
Appendix 1: general notes relating to the use of specific materials and particular environmental issues;.
Timber;.
Indoor air quality issues;.
CFC's, HCFC's and HFC's;.
PVC;.
Appendix 2: worked example of the generation of a Green Guide rating for an.
internal wall specification;.
Generation of the environmental profile for the specification;.
Generation of the Green Guide rating for each environmental issue;.
Generation of the summary rating for each specification;.
Appendix 3: the production of a BRE environmental profile for a material.
using the BRE environmental profiles methodology;.
Inventory analysis;.
Impact assessment;.
Appendix 4: BREEAM case study;.
Appendix 5: differences in environmental issues from previous editions;.
Contacts and further information;.
Key references;.
Index
* The definitive guide to improving a building's environmental performance through better specification practices
* Based on sound data from an authoritative source
* Easy to use