The Grouchy Grammarian: A How-Not-To Guide to the 47 Most Common Mistakes in English Made by Journalists, Broadcasters, and Others Who Should Know Better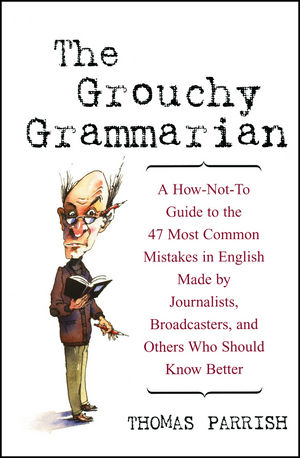 The Grouchy Grammarian: A How-Not-To Guide to the 47 Most Common Mistakes in English Made by Journalists, Broadcasters, and Others Who Should Know Better
ISBN: 978-0-471-43286-9
Nov 2002
192 pages
Description
Do you commit apostrophe atrocities?

Are you tormented by the lie/lay conundrum?

Do you find yourself stuck between floaters and danglers?

Do your subjects and your verbs refuse to agree?

If so, you're not alone. Some of the most prominent professionals in TV broadcasting and at major newspapers and magazines-people who really should know better-are guilty of making all-too-common grammatical errors. In this delightfully amusing, clever guide, Thomas Parrish points out real-life grammar gaffes from top-notch publications such as the New York Times and the New Yorker to illustrate just how widespread these errors are. With red pen in hand, Parrish's fictional friend the Grouchy Grammarian leads the charge, examining the forty-seven most common mistakes in English and imparting the basics of good grammar with a charming mixture of fussiness and common sense. All of which makes The Grouchy Grammarian the most entertaining, accessible how-not-to guide you'll ever read.
The Grouch and I.

The Topics.

1. Think!

2. Agreement; or, Where Did the Subject Go?

3. Special Kinds of Subjects.

4. A Bit More about Each.

5. There-the Introducer.

6. Former Greats.

7. Just Because They Sound Alike.

8. The Reason Isn't Because.

9. May and Might: Did They or Didn't They?

10. As of Yet.

11. Floaters and Danglers.

12. A.M./Morning, P.M./Afternoon, Evening.

13. Would Have vs. Had.

14. Apostrophe Atrocities.

15. It's a Contraction-Really.

16. Whom Cares?

17. Whiches, Who's, and That's.

18. Where's the Irony?

19. The Intrusive Of.

20. Preposition Propositions.

21. But Won't You Miss Me?

22. Well, Better, Best, Most.

23. Between Who and What?: Prepositions with More Than One Object.

24. Other . . . or Else.

25. Lie, Lay.

26. A Case of Lead Poisoning.

27. Silly Tautologies.

28. False Series.

29. French Misses.

30. None Is, None Are?

31. Drug Is a Drag. It Must Have Snuck In.

32. And/Or.

33. Overworked and Undereffective.

34. Quantities, Numbers.

35. Watering What You're Writing: The Alleged Criminal and the Alleged Crime.

36. Only But Not Lonely.

37. Pairs-Some Trickier Than Others.

38. Between vs. Among.

39. Those Good Old Sayings.

40. Fuzz.

41. As . . .Than.

42. Not Appropriate.

43. Sorry, You've Already Used That One.

44. From Classical Tongues.

45. Like, Like.

46. Just the Facts, Ma'am.

47. Lost Causes?

The Grouch Reflects.

Afterword.

Using This Book.

Thanks.

From the Grouch's Shelves-A Bibliography.

Index.
"…this is a lighthearted but highly effective reminder for anyone looking to avoid the pitfalls of the English language…" (Good Book Guide, June 2003)