The Group Therapy Treatment Planner, 2nd Edition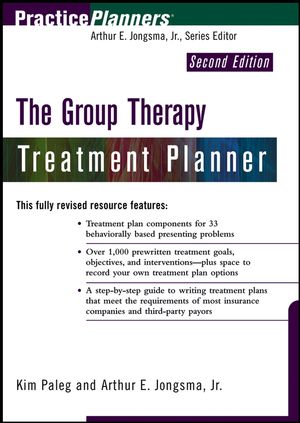 The Group Therapy Treatment Planner, 2nd Edition
ISBN: 978-0-471-66791-9
Jan 2005
336 pages
Product not available for purchase
Description
The Group Therapy Treatment Planner, Second Edition provides all the elements necessary to quickly and easily develop formal treatment plans that satisfy the demands of HMOs, managed care companies, third-party payors, and state and federal review agencies.
A critical tool for mental health professionals developing formal treatment plans for working with a variety of groups
New edition features expanded coverage and outlines entirely new areas including utilizing group therapy to treat panic/agoraphobia, PTSD/trauma, adult ADHD, obsessive-compulsive disorder, and borderline personality disorder
Streamlined interventions and fully updated language make this edition easier to use and more clinically applicable
Saves you hours of time-consuming paperwork, yet offers the freedom to develop customized treatment plans
Organized around 33 main presenting problems with a focus on applying a group therapy approach to a wide variety of disorders
Over 1,000 well-crafted, clear statements describe the behavioral manifestations of each relational problem, long-term goals, short-term objectives, and clinically tested treatment options
Easy-to-use reference format helps locate treatment plan components by behavioral problem or DSM-IV-TR diagnosis
Includes a sample treatment plan that conforms to the requirements of most third-party payors and accrediting agencies (including HCFA, JCAHO, and NCQA)
Practice
Planners
Series Preface.
Acknowledgments.
Introduction.
Adult Children of Alcoholics (ACOA).
Anger Control Problems.
Anxiety.
Assertiveness Deficit.
Attention-Deficit/Hyperactivity Disorder (ADHD)—Adult.
Borderline Personality Disorder.
Bulimia.
Caregiver Burnout.
Chemical Dependence.
Child Molester—Adolescent Male.
Chronic Pain.
Codependence.
Depression.
Domestic Violence Offenders—Male.
Domestic Violence Survivors—Female.
Grief/Loss.
HIV/AIDS.
Incest Offenders—Adult Male.
Incest Survivors—Adult Female.
Infertility.
Obsessive-Compulsive Disorder (OCD).
Panic/Agoraphobia.
Parenting Problems.
Phobias—Specific/Social.
Posttraumatic Stress Disorder (PTSD).
Rape Survivors.
Separation/Divorce.
Shyness.
Single Parents.
Stepparenting.
Toxic Parent Survivors.
Type A Stress.
Vocational Stress.
Appendix A: Bibliotherapy References.
Appendix B: Index of DSM-IV-TR Codes Associated with Presenting Problems.