The Guru Investor: How to Beat the Market Using History's Best Investment Strategies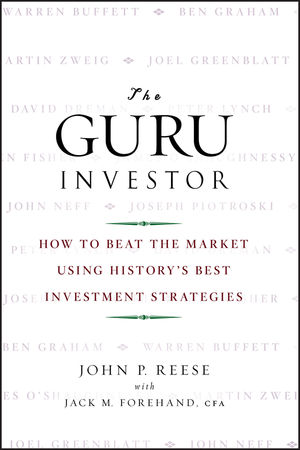 The Guru Investor: How to Beat the Market Using History's Best Investment Strategies
ISBN: 978-0-470-37709-3 February 2009 336 Pages
Description
Today's investor is faced with a myriad of investment options and strategies. Whether you are seeking someone to manage your money or are a self-directed investor deciding to tackle the market on your own, the options can be overwhelming.

In an easy-to-read and simple format, this book will dissect the strategies of some of Wall Street's most successful investment gurus and teach readers how to weed through the all of the choices to find a strategy that works for them. The model portfolio system that author John Reese developed turns each strategy into an actionable system, addressing many of the common mistakes that doom individual investors to market underperformance. This book will focus on the principles behind the author's multi-guru approach, showing how investors can combine the proven strategies of these legendary "gurus" into a disciplined investing system that has significantly outperformed the market.

Gurus covered in the book are: Benjamin Graham; John Neff; David Dreman; Warren Buffett; Peter Lynch; Ken Fisher; Martin Zweig; James O'Shaughnessy; Joel Greenblatt; and Joseph Piotroski.
Acknowledgements.
Introduction.
Part One: Why You Need this Book.
Chapter 1 Learn from the Worst.
Chapter 2. The Cavalry Arrives.
Part Two: The Value Legends.
Chapter 3: Benjamin Graham: The Granddaddy of the Gurus.
Chapter 4: John Neff: The Investor's Investor.
Chapter 5: David Dreman: The Great Contrarian.
Chapter 6: Warren Buffett: The Greatest Guru.
Part Three: The Growth Legends (With a Value Twist).
Chapter 7: Peter Lynch: The Star "GARP" Manager.
Chapter 8: Kenneth L. Fisher: The Price/Sales Pioneer.
Chapter 9: Martin Zweig: The Conservative Growth Investor.
Part Four: The Pure Quants.
Chapter 10: James O'Shaughnessy: The Quintessential Quant.
Chapter 11: Joel Greenblatt: The Man with the Magic Formula.
Chapter 12: Joseph Piotroski: The Undiscovered Academic.
Part Five: From Theory to Practice.
Chapter 13: Putting It Together: The Principles of Guru Investing.
Chapter 14: The Missing Piece: Knowing When To Sell.
Conclusion: Time To Take The Wheel.
Appendix A: Performance of Guru-Based 10- and 20-Stock Model Portfolios.
Appendix B: Guru Yearly Track Record Comparison (Actual or Back-Tested Returns).
References.
About the Authors.
Index.