The H.264 Advanced Video Compression Standard, 2nd Edition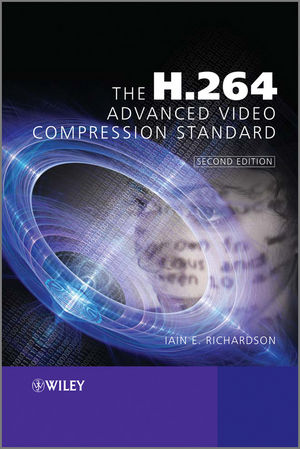 The H.264 Advanced Video Compression Standard, 2nd Edition
ISBN: 978-0-470-51692-8 August 2010 346 Pages
Description
H.264 Advanced Video Coding or MPEG-4 Part 10 is fundamental to a growing range of markets such as high definition broadcasting, internet video sharing, mobile video and digital surveillance. This book reflects the growing importance and implementation of H.264 video technology. Offering a detailed overview of the system, it explains the syntax, tools and features of H.264 and equips readers with practical advice on how to get the most out of the standard.


Packed with clear examples and illustrations to explain H.264 technology in an accessible and practical way.
Covers basic video coding concepts, video formats and visual quality.
Explains how to measure and optimise the performance of H.264 and how to balance bitrate, computation and video quality.
Analyses recent work on scalable and multi-view versions of H.264, case studies of H.264 codecs and new technological developments such as the popular High Profile extensions.
An invaluable companion for developers, broadcasters, system integrators, academics and students who want to master this burgeoning state-of-the-art technology.
"[This book] unravels the mysteries behind the latest H.264 standard and delves deeper into each of the operations in the codec. The reader can implement (simulate, design, evaluate, optimize) the codec with all profiles and levels. The book ends with extensions and directions (such as SVC and MVC) for further research."  Professor K. R. Rao, The University of Texas at Arlington, co-inventor of the Discrete Cosine Transform
About the Author.
Preface.
Glossary.
List of figures.
List of tables.
1 Chapter 1: Introduction.
1.1 A change of scene.
1.2 Driving the change.
1.3 The role of standards.
1.4 Why H.264 Advanced Video Coding is important.
1.5 About this book.
2 Chapter 2: Video Formats and Quality.
2.1 Introduction.
2.2 Natural video scenes.
2.3 Capture.
2.4 Colour spaces.
2.5 Video Formats.
2.6 Quality.
2.7 Summary.
2.8 References.
3 Chapter 3: Video Coding Concepts.
3.1 Introduction.
3.2 Video CODEC.
3.3 Prediction model.
3.4 Image model.
3.5 Entropy coder.
3.6 The hybrid DPCM/DCT video CODEC model.
3.7 Summary.
3.8 References.
4 Chapter 4: What is H.264?
4.1 Introduction.
4.2 What is H.264?
4.3 How does an H.264 codec work?
4.4 The H.264/AVC Standard.
4.5 H.264 Profiles and Levels.
4.6 The H.264 Syntax.
4.7 H.264 in practice.
4.8 Summary.
4.9 References.
5 H.264 syntax.
5.1 Introduction.
5.2 H.264 syntax.
5.3 Frames, fields and pictures.
5.4 NAL unit.
5.5 Parameter Sets
5.6 Slice Layer.
5.7 Macroblock Layer.
5.8 Summary.
5.9 References.
6 Chapter 6: H.264 Prediction.
6.1 Introduction.
6.2 Macroblock Prediction.
6.3 Intra Prediction.
6.4 Inter Prediction.
6.5 Loop filter.
6.6 Summary.
6.7 References.
7 Chapter 7: H.264 transform and coding.
7.1 Introduction.
7.2 Transform and quantization.
7.3 Block scan orders.
7.4 Coding.
7.5 Summary.
7.6 References.
8 H.264 conformance, transport and licensing.
8.1 Introduction.
8.2 Conforming to the Standard.
8.3 H.264 coding tools for transport support.
8.4 Transport of H.264 data.
8.5 Supplemental Information.
8.6 Licensing H.264/AVC.
8.7 Summary.
8.8 References.
9 Chapter 9: H.264 performance.
9.1 Introduction.
9.2 Experimenting with H.264.
9.3 Performance comparisons.
9.4 Rate control.
9.5 Mode selection.
9.6 Low complexity coding.
9.7 Summary.
9.8 References.
10 Chapter 10: Extensions and directions.
10.1 Introduction.
10.2 Scalable Video Coding.
10.3 Multiview Video Coding.
10.4 Configurable Video Coding.
10.5 Beyond H.264/AVC.
10.6 Summary.
10.7 References.
Index.