The Handbook for Investment Committee Members: How to Make Prudent Investments for Your Organization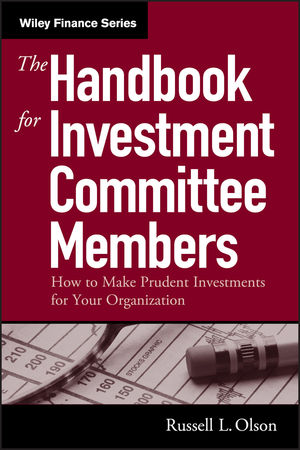 The Handbook for Investment Committee Members: How to Make Prudent Investments for Your Organization
ISBN: 978-0-471-71978-6
Mar 2005
176 pages
Description
Comprehensive coverage of what it takes to be a responsible member of an investment committee

In a clear, organized, and easy-to-understand manner, this handbook explains the responsibilities and expectations of investment committee fiduciaries for pension funds, endowment funds, and foundations. Emphasizing all the do's and don'ts to follow for prudent investment management, this invaluable resource covers topics ranging from investment policy, asset allocation, and risk assessment to understanding information presented at committee meetings, asking meaningful and productive questions, and voting on recommendations knowledgeably. This book will empower readers with all the knowledge they need to feel confident in the investment decisions they make for their organizations
Acknowledgments.
Introduction.
Organization of this Book.
CHAPTER 1: The Investment Committee.
Standards to Meet.
Committee Organization and Functions.
Interaction of Committee and Adviser.
Social Investing.
In Short.
APPENDIX 1: Example of an Investment Committee's Operating Policies.
CHAPTER 2: Risk, Return, and Correlation.
Return.
Risk.
Correlation.
Risk-Adjusted Returns.
Derivatives—A Boon or a Different Four-Letter Word?
In Short.
CHAPTER 3: Setting Investment Policies.
Time Horizon, Risk, and Return.
Policy Asset Allocation.
Preparing a Statement of Investment Policies.
In Short.
CHAPTER 4: Asset Allocation.
Characteristics of an Asset Class.
Asset Classes.
Putting It All Together.
In Short.
CHAPTER 5: Alternative Asset Classes.
Liquid Alternative Assets.
Illiquid Investments.
Private Asset Classes.
In Short.
CHAPTER 6: Selecting and Monitoring Investment Managers.
Three Basic Approaches.
Criteria for Hiring and Retaining Managers.
Hiring Managers.
Retaining Managers.
In Short.
CHAPTER 7: The Custodian.
Custodial Reporting.
Management Information.
In Short.
CHAPTER 8: Evaluating an Investment Fund's Organization.
Investment Objectives.
Asset Allocation.
The Fiduciary Committee.
The Adviser.
Investment Managers.
CHAPTER 9: Structure of an Endowment Fund.
The Total Return, or Imputed Income, Approach.
"Owners" of the Endowment Fund.
In Short.
APPENDIX 9: The Total Return or Imputed Income Method.
CHAPTER 10: What's Different about Pension Funds?
Pension Plan Liabilities.
Investment Implications.
In Short.
CHAPTER 11: Once Again.
Glossary.
Bibliography.
Index.
About the Author.