The Handbook of Conflict Resolution: Theory and Practice, 3rd Edition: Managing Environmental Conflict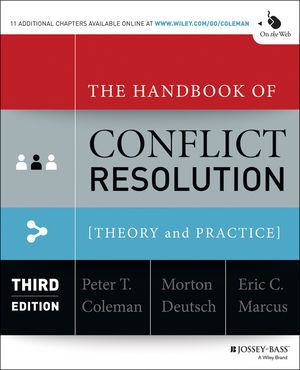 The Handbook of Conflict Resolution: Theory and Practice, 3rd Edition: Managing Environmental Conflict
ISBN: 978-1-118-82056-8
Mar 2014, Jossey-Bass
21 pages
Product not available for purchase
Description
This chapter from The Handbook of Conflict Resolution, Third Edition is available exclusively via online download, addressing a specific area of interest in the conflict resolution field. It explores the characteristics of environmental conflicts, the challenges that they hold for conflict resolution, and trends in environmental conflict resolution research. Particular emphasis is placed on methods and tools for overcoming the challenges that environmental conflicts pose, metrics capable of evaluating success in environmental conflict resolution, and the skills and tools that practitioners need to effectively intervene in environmental conflicts.
Preface xi
Introduction xvii
Morton Deutsch
Part one: Interpersonal and Intergroup Processes 1
1 Cooperation, Competition, and Conflict 3
Morton Deutsch
2 Justice and Conflict 29
Morton Deutsch
*3 A Delicate and Deliberate Journey toward Justice: Challenging Privilege: Building Structures of Solidarity 56
Michelle Fine, Alexis Halkovic
4 Constructive Controversy: The Value of Intellectual Opposition 76
David W. Johnson, Roger T. Johnson, Dean Tjosvold
5 Trust, Trust Development, and Trust Repair 104
Roy J. Lewicki, Edward C. Tomlinson
6 Power and Conflict 137
Peter T. Coleman
7 Communication and Conflict 168
Robert M. Krauss, Ezequiel Morsella
8 Language, Peace, and Conflict Resolution 182
Francisco Gomes de Matos
9 The PSDM Model: Integrating Problem Solving and Decision Making in Conflict Resolution 203
Eben A. Weitzman, Patricia Flynn Weitzman
10 Intergroup Conflict 230
Ronald J. Fisher
Part two: Intrapsychic and Intragroup Processes 253
11 Judgmental Biases in Conflict Resolution and How to Overcome Them 255
Leigh L. Thompson, Brian J. Lucas
12 Emotion and Conflict: Why It Is Important to Understand How Emotions Affect Conflict and How Conflict Affects Emotions 283
Evelin G. Lindner
13 Self-Regulation in the Service of Conflict Resolution 310
Walter Mischel, Aaron L. DeSmet, Ethan Kross
*14 Group Decision Making in Conflict: From Groupthink to Polythink in the War in Iraq 331
Alex Mintz, Carly Wayne
Part three: Personal Differences 353
*15 Natural-Born Peacemakers? Gender and the Resolution of Conflict 355
Mara Olekalns
16 Resolving Intractable Intergroup Conflicts: The Role of Implicit Theories about Groups 384
Eran Halperin, James J. Gross, Carol S. Dweck
17 Personality and Conflict 400
Sandra V. Sandy, Susan K. Boardman, Morton Deutsch
18 The Development of Conflict Resolution Skills: Preschool to Adulthood 430
Sandra V. Sandy
Part four: Creativity and Change 465
19 Creativity and Conflict Resolution: The Role of Point of View 467
Howard E. Gruber
20 Some Guidelines for Developing a Creative Approach to Conflict 478
Peter T. Coleman, Morton Deutsch
21 Creativity in the Outcomes of Conflict 490
Peter J. Carnevale
22 Change and Conflict: Motivation, Resistance, and Commitment 513
Eric C. Marcus
23 Changing Minds: Persuasion in Negotiation and Conflict Resolution 533
Alison Ledgerwood, Shannon P. Callahan, Shelly Chaiken
24 Learning through Reflection on Experience: An Adult Learning Framework for How to Handle Conflict 558
Victoria J. Marsick, Dorothy E. Weaver, Lyle Yorks
Part five: Culture and Conflict 579
*25 The Alchemy of Change: Cultural Fluency in Conflict Resolution 581
Michelle LeBaron
*26 Indigenous Lessons for Conflict Resolution 604
Geneviève Souillac, Douglas P. Fry
*27 Multiculturalism and Conflict 623
Mekayla K. Castro, Peter T. Coleman
28 Cooperative and Competitive Conflict in China 654
Dean Tjosvold, Kwok Leung, David W. Johnson
Part six: Difficult Conflicts 679
29 Aggression and Violence: Causes and Correctives 681
Wen Liu, Susan Opotow
30 Intractable Conflict 708
Peter T. Coleman
*31 The Pragmatics of Peace with Justice: The Challenge of Integrating Mediation and Human Rights 745
Eileen F. Babbitt
*32 Terrorism: Negotiating at the Edge of the Abyss 764
Guy Olivier Faure
Part seven: Models of Practice 793
*33 Negotiation 795
Roy J. Lewicki, Edward C. Tomlinson
34 The Mediation of Conflict: Context, Cognition, and Practice 817
Kenneth Kressel
35 Teaching Conflict Resolution Skills in a Workshop 849
Susan W. Coleman, Yaron Prywes
*36 Creating Constructive Communication through Dialogue 877
Beth Fisher-Yoshida
*37 An Empirically Based Approach to Couples' Conflict 898
John Gottman, Julie S. Gottman, Andy Greendorfer, Mirabai Wahbe
38 Managing Conflict through Large Group Methods 921
Barbara Benedict Bunker, Susan W. Coleman
*39 Group Relations and Conflict Resolution 947
Sarah J. Brazaitis
*40 Reconciliation between Groups: Preventing (New) Violence and Improving Lives 971
Ervin Staub
*41 Social Networks, Social Media, and Conflict Resolution 998
James D. Westaby, Nicholas Redding
*42 Using Research Findings in Practice: From Knowledge Acquisition to Application 1023
Daniel Druckman
*43 Nonviolent Struggle: An Overview 1043
Gene Sharp
Part eight: Looking to the Future 1059
44 A Framework for Thinking about Research on Conflict Resolution Initiatives 1061
Morton Deutsch, Jennifer Goldman-Wetzler, Christine T. Chung
45 Some Research Frontiers in the Study of Conflict and Its Resolution 1087
Dean G. Pruitt, Katharina G. Kugler
Concluding Overview 1111
Peter T. Coleman, Eric C. Marcus
About the Editors 1125
About the Contributors 1129
Name Index 1163
Subject Index 1191
Part nine: Domain Specific
Chapters 46 through 56 are available exclusively as online downloads. Visit www.wiley.com/go/coleman for more
information.
46 Gender Conflict in Marriage
Janice M. Steil, Beth Turetsky
*47 Conflict Resolution in Schools
David W. Johnson, Roger T. Johnson
48 Conflict in Organizations
W. Warner Burke
*49 Labor Relations and Conflict
Christopher Honeyman
*50 Alternative and Appropriate Dispute Resolution in Context: Formal, Informal, and Semiformal Legal Processes
Carrie Menkel-Meadow
*51 Police and Conflict Resolution: Some Observations
Maria R. Volpe
*52 Participatory Action Research, Conflict Resolution, and Communities
Claudia E. Cohen, Rebecca Neshkes, Michelle Pryce-Screen, Elizabeth Hernandez, Micaela Linder, Megan Doherty-Baker
53 Faith Matters: Religion as a Third Side for Peace
Bridget Moix
*54 Nongovernmental Organizations as a Vehicle for Collective Action
Andrea Bartoli, Borislava Manojlovic, Mark Magellan
*55 Managing Environmental Conflict
Joshua Fisher
*56 International Conflict Resolution: From Practice to Knowledge and Back Again
Anthony Wanis-St. John, Suzanne Ghais