The Handbook of Contemporary Hospitality Management Research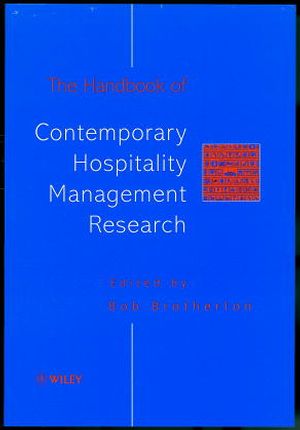 The Handbook of Contemporary Hospitality Management Research
ISBN: 978-0-471-98395-8
Jun 1999
562 pages
Description
As hospitality continues to establish itself as a mainstream subject area in universities there is a need to create a research culture within this emergent field. This book provides the definitive handbook on hospitality management research. Included in the volume is a state-of-the-art review of philosophies, approaches and methods of research currently in use in the field. A key feature of the book is the coverage of application of these philosophical issues and alternative research methods and approaches. Beyond this, the book discusses perspectives, practices and problems in hospitality management with chapters ranging from a review of quality management, strategic management, IT management right through to small business management. This handbook is the most comprehensive resource and reference piece for researchers, academics and students in the field of hospitality management. Contributions come from leading thinkers in the field: Michael Baker Gerry Barlow Tom Baum Maureen Brookes Francis Buttle David Edgar Martin Friel Alan Fyall David Gilbert Frank Go Anne Hampton Nigel Hemmington Haydn Ingram Stephanie Jameson Stuart Jauncey Nick Johns Peter Jones Conrad Lashley David Litteljohn Andrew Lockwood Rosemary Lucas Michael Olsen Angela Roper Sylvia Sussmann Stephen Taylor Rhodri Thomas Eliza Ching-Yick Tse Sandra Watson Susan Welch Roy Wood
PHILOSOPHIES, APPROACHES AND METHODS.

Traditional and Alternative Research Philosophies (R. Wood).

Lacuna or Lost Cause? Some Reflections on Hospitality Management Research (S. Taylor & D. Edgar).

Researching Organisations from the Outside (D. Litteljohn & A. Roper).

Interdisciplinary Research: The Team Advantage! (M. Brookes, et al.).

Survey Research (R. Lucas).

Experimental Research (P. Jones).

Case Study Research (B. Brotherton).

Comparative Research (B. Brotherton).

Action Research (C. Lashley).

Observational Research (S. Jauncey).

Critical Incident Technique (D. Gilbert & A. Lockwood).

Measurement (F. Buttle).

Sampling (N. Hemmington).

Quantitative Data Analysis (A. Fyall & R. Thomas).

Qualitative Data Analysis and Interpretation (A. Hampton).

Presentation of Research Findings (T. Baum).

PERSPECTIVES, PRACTICES AND PROBLEMS.

Quality Management (N. Johns).

Strategic Management (E. Tse & M. Olsen).

Human Resource Management (C. Lashley & S. Watson).

Information Technology Management (M. Baker, et al.).

Hotel Operations Management (A. Lockwood & H. Ingram).

Catering Operations Management (P. Jones).

Industry Structure and Strategic Groups (D. Litteljohn).

Internationalisation (F. Go).

Small Business Management (R. Thomas, et al.).

Financial Management Research (G. Barlow).

Hospitality Management Research: Towards the Future? (B. Brotherton).

Index.