The Handbook of Critical Theory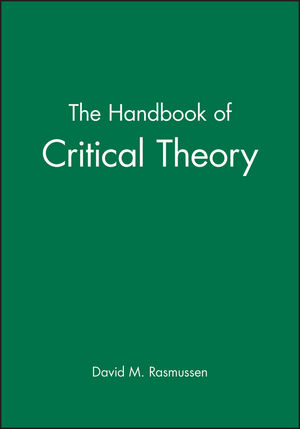 The Handbook of Critical Theory
ISBN: 978-0-631-18379-2
Sep 1996, Wiley-Blackwell
440 pages
Description
The Handbook of Critical Theory brings together for the first time a detailed examination of the state of critical theory today. The fifteen essays provide analyses of the various orientations which critical theory has taken both historically and systematically in recent years, expositions of the new perspectives which have begun to shape the field, and reflections upon the direction of critical theory.
List of Contributors.
Acknowledgments.
Editor's Introduction: David M. Rasmussen (Boston College).
Part I: Philosophy and History: .
1. Critical Theory and Philosophy: David M. Rasmussen (Boston College).
2. Urban Flights: The Institute of Social Research Between Frankfurt and New York: Martin Jay (University of California, Berkeley).
3. Critical Theory and Tragic Knowledge: Christoph Menke.
Part II: Social Science, Discourse Ethics, and Justice:.
4. Critical Theory and Empirical Research: Hauke Brunkhorst (Kulturwissenschaftliches Institut, Essen).
5. The Communicative Paradigm in Moral Theory: Alessandro Ferrara (Universita Degli Studi di Roma).
6. Justice, Reason, and Critique: Basic Concepts of Critical Theory: Rainer Forst (Freie Universitat Berlin).
Part III: Law and Democracy: .
7. Habermas's Discourse Theory of Law and Democracy: An Overview of the Argument: William Rehg (St. Louis University).
8. Critical Theory and Democracy: James Bohman (St. Louis University). Part IV: Civil Society and Autonomy:.
9. Civil Society: Beyond the Public Sphere: Jodi Dean (Hobart and William Smith Colleges).
10. Public Reason and Personal Autonomy: Kenneth Baynes (SUNY, Stonybrook).
Part V: Pragmatics, Psychoanalysis, and Aesthetics: .
11. Karl-Otto Apel's Contribution to Critical Theory: Matthias Kettner (Kulturwissenschaftliches Institut, Essen and Johann-Wolfgang-Croethe University, Frankfurt).
12. Fantasy and Critique: Some Thoughts on Freud and the Frankfurt School: Joel Whitebook (New School for Social Research).
13. Theodor W. Adorno: Aesthetic Constructivism and a Negative Ethic of The Non-Forfeited Life: Hauke Brunkhorst (Kulturwissenschaftliches Institut, Essen).
Part VI: Postmodernism, Critique and The Pathology of The Social: 14. Critical Theory and Postmodernism: On the Interplay of Ethics, Aesthetics and Utopia in Critical Theory: Seyla Benhabib (Harvard University and Center for European Studies).
15. Critical Theory and Postmodernism: A Response to David Hoy: Thomas McCarthy (Northwestern University).
16. Pathologies of the Social: The Past and Present of Social Philosophy: Axel Honneth (Freie Universitat Berlin).
Part VII: Bibliography:.
17. A Bibliography of Critical Theory: James Swindal (John Carrol University).
Index.
"This Reader is the most comprehensive, accessible and exciting sample of the major critical theorists available to us in the English speaking world. An invaluable teaching resource as well as an engaging introduction for the interested or uninitiated reader." –
Richard Kerney, University College Dublin
"The seven fine essays comprising Parts II-IV of this book (on discourse ethics and justice, democracy and law, autonomy and civil society) join very nicely to provide a lucid and compelling account of current thinking among those who approach the meeting point with political liberalism from the critical-theory side." – Frank I. Michelman, Harvard University
* Contributors represent the best/most distinguished of the critical theorist group.
* The Handbook's comprehensiveness covers all of the associated disciplines and themes: philosophy; history; social sciences; ethics; justice; law; democracy; civil society; autonomy; pragmatics; psychoanalysis; aesthetics; postmodernism; analytic philosophy and social philosophy.