The Handbook of Dispute Resolution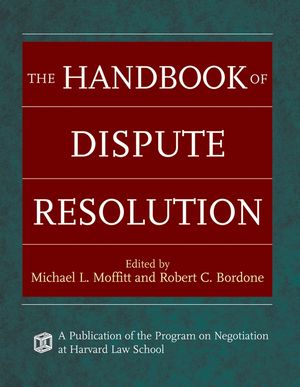 The Handbook of Dispute Resolution
ISBN: 978-1-118-42983-9 June 2012 Jossey-Bass 560 Pages
Description
This volume is an essential, cutting-edge reference for all practitioners, students, and teachers in the field of dispute resolution. Each chapter was written specifically for this collection and has never before been published. The contributors--drawn from a wide range of academic disciplines--contains many of the most prominent names in dispute resolution today, including Frank E. A. Sander, Carrie Menkel-Meadow, Bruce Patton, Lawrence Susskind, Ethan Katsh, Deborah Kolb, and Max Bazerman. The Handbook of Dispute Resolution contains the most current thinking about dispute resolution. It synthesizes more than thirty years of research into cogent, practitioner-focused chapters that assume no previous background in the field. At the same time, the book offers path-breaking research and theory that will interest those who have been immersed in the study or practice of dispute resolution for years. The Handbook also offers insights on how to understand disputants. It explores how personality factors, emotions, concerns about identity, relationship dynamics, and perceptions contribute to the escalation of disputes. The volume also explains some of the lessons available from viewing disputes through the lens of gender and cultural differences.
Table of contents
Preface.
1. Perspectives on Dispute Resolution: An Introduction (Michael L. Moffitt and Robert C. Bordone).
2. Roots and Inspirations: A Brief History of the Foundations of Dispute Resolution (Carrie Menkel-Meadow).
PART ONE: UNDERSTANDING DISPUTANTS.
3. "I See a Pattern Here and the Pattern Is You": Personality and Dispute Resolution (Sheila Heen and John Richardson).
4. The Decision Perspective to Negotiation (Max H. Bazerman and Katie Shonk).
5. Enemies, Allies, and Emotions: The Power of Positive Emotions in Negotiation (Daniel L. Shapiro).
6. Relationship Dynamics in Disputes: Replacing Contention with Cooperation (Keith G. Allred).
7. Identity, Beliefs, Emotion, and Negotiation Success (Clark Freshman).
8. Cultural Pathways in Negotiation and Conflict Management (Anthony Wanis-St. John).
9. Negotiation Through a Gender Lens (Deborah M. Kolb and Linda L. Putnam).
10. Bone Chips to Dinosaurs: Perceptions, Stories, and Conflict (Douglas Stone and Sheila Heen).
PART TWO: UNDERSTANDING DISPUTES AND DISPUTE CONTEXTS.
11. Disputes as Opportunities to Create Value (Michael L. Moffitt).
12. Six Principles for Using Negotiating Agents to Maximum Advantage (Scott R. Peppet).
13. Finding Settlement with Numbers, Maps, and Trees (Marjorie Corman Aaron).
14. Option Generation: Be Careful What You Ask For . . . (Chris Guthrie).
15. Organizational Influences on Disputants (Corinne Bendersky).
16. A Taxonomy of Dispute Resolution Ethics (Jonathan R. Cohen).
17. The Role of Law in Settlement (Russell Korobkin).
PART THREE: UNDERSTANDING DISPUTE RESOLUTION PROCESSES.
18. Negotiation (Bruce Patton).
19. Mediation (Kimberlee K. Kovach).
20. Arbitration (Sarah Rudolph Cole and Kristen M. Blankley).
21. Litigation as a Dispute Resolution Alternative (Jeffrey R. Seul).
22. Consensus Building and ADR: Why They Are Not the Same Thing (Lawrence E. Susskind).
23. Bargaining in the Shadow of Management: Integrated Conflict Management Systems (Howard Gadlin).
24. Selecting an Appropriate Dispute Resolution Procedure: Detailed Analysis and Simplified Solution (Frank E. A. Sander and Lukasz Rozdeiczer).
PART FOUR: EMERGING ISSUES IN DISPUTE RESOLUTION.
25. What Could a Leader Learn from a Mediator? Dispute Resolution Strategies for Organizational Leadership (Hannah Riley Bowles).
26. Online Dispute Resolution (Ethan Katsh).
27. Public and Private International Dispute Resolution (Andrea Kupfer Schneider).
28. Victim Offender Mediation: Evidence-Based Practice Over Three Decades (Mark S. Umbreit, Robert B. Coates, and Betty Vos).
29. Youths, Education, and Dispute Resolution (Donna K. Crawford and Richard J. Bodine).
30. Institutionalization and Professionalization (Nancy A. Welsh).
31. The Next Thirty Years: Directions and Challenges in Dispute Resolution (Robert C. Bordone, Michael L. Moffitt, and Frank E. A. Sander).
About the Editors.
About the Contributors.
Name Index.
Subject Index.