The Handbook of Education and Human Development: New Models of Learning, Teaching and Schooling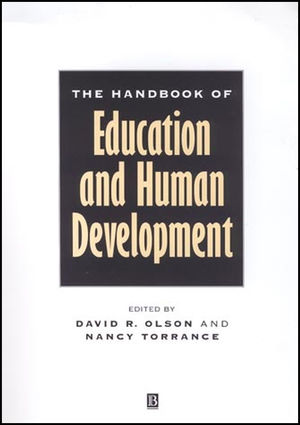 The Handbook of Education and Human Development: New Models of Learning, Teaching and Schooling
ISBN: 978-1-405-16609-6
Feb 2008, Wiley-Blackwell
816 pages
Description
The Handbook of Education and Human Development provides a review of advances in our understanding of human development and of their implications for education theory and practice.
Preface.
List of Contributors.
1. Introduction: Rethinking the Role of Psychology in Education: David R. Olson and Nancy Torrance.
Part I: Setting the Stage: How Theories of Human Development Relate to Education:.
Part A: Psychological Foundations of Child-centered Pedagogy:.
2. Folk Psychology and Folk Pedagogy: David R. Olson and Jerome S. Bruner.
3. The Age of Innocence Reconsidered: Preserving the Best of the Progressive Traditions in Psychology and Education: Howard Gardner, Bruce Torff, and Thomas Hatch.
4. A Rereading of Dewey's Art as Experience: Pointers Toward a Theory of Learning: Maxine Greene.
5. Changing Views of Knowledge and Their Impact on Educational Research and Practice: Robbie Case.
6. Rethinking the Historical Role of Psychology in Educational Reform: Barbara Beatty.
Part B: Pedagogical Perspectives on Human Development:.
7. Rethinking the Concept of Learning Disabilities: The Demise of Aptitude/Achievement Discrepancy: Keith E. Stanovich and Paula J. Stanovich.
8. Rethinking Readiness for Learning: Rita Watson.
9. Language and Literacy Development: Discontinuities and Differences: Lowry Hemphill and Catherine Snow.
10. Accommodating Diversity in Early Literacy Learning: Marie M. Clay.
11. Writing and Learning to Write: Gunther Kress.
12. Rethinking the Role of Emotions in Education: Keith Oatley and Seema Nundy.
Part II: Biological and Cultural Foundations of Pedagogy:.
Part A: The Very Possibility of Education:.
13. Pedagogy and Imitation in Monkeys: Yes, No, or Maybe? Elisabetta Visalberghi and Dorothy M. Fragaszy.
14. Why Animals Lack Pedagogy and Some Cultures Have More of it Than Others: David Premack and Anne James Premack.
15. Humanly Possible: Education and the Scope of the Mind: Margaret Donaldson.
16. Acceptable Ignorance, Negotiable Disagreement: Alternative Views of Learning: Jacqueline J. Goodnow.
Part B: Cultural Context of Human Development and Education:.
17. Cultural Learning and Learning Culture: Ann C. Kruger and Michael Tomasello.
18. Models of Teaching and Learning: Participation in a Community of Learners: Barbara Rogoff, Eugene Matusov, and Cynthia White.
19. The Individual-Society Antimony Revisited: Productive Tensions in Theories of Human Development, Communication, and Education: James V. Wertsch and William R. Penuel.
20. Some Educational Implications of Genre-based Mental Models: The Interpretative Cognition of Text Understanding: Carol Fleisher Feldman and David A. Kalmar.
21. Habits of Mind for a Learning Society: Educating for Human Development: Daniel Keating.
Part III: Schooling Minds:.
Part A: The Language and Culture of Schooling:.
22. Rethinking Learning: Carl Bereiter and Marlene Scardamalia.
23. The Development of Understanding: Kieran Egan.
24. The Learner's Experience of Learning: Terence Marton and Shirley Booth.
25. Understanding and Empowering the Child as a Learner: Ingrid Pramling.
26. The Language of Mind: Its Role in Teaching and Learning: Janet Wilde Astington and Janette Pelletier.
Part B: Coping with Content:.
27. Schooling and the Acquisition of Theoretical Knowledge: Frank C. Keil and Chana S. Silberstein.
28. From Folk Biology to Scientific Biology: Scott Atran.
29. Cognitive and Cultural Factors in the Acquisition of Intuitive Biology: Giyoo Hatano and Kayoko Inagaki.
30. What Do 'Just Plain Folk' Know about Physics? Andrea A. Disessa.
31. Agreeing to Disagree: Developing Sociable Mathematical Discourse: Magdalene Lampert, Peggy Ritten House, and Carol Crumbaugh.
32. Conceptualizing the Growth of Historical Understanding: Peter Seixas.
Author Index.
Subject Index.
"This collection of 32 substantial and varied chapters is an intellectually stimulating effort to reconcile what psychologists know about learning and child development. Olson and Torrance's
Handbook
should be ordered by every library that has a graduate program in educational psychology, educational curriculum and instruction, educational philosophy, cognition, or human development psychology."
Contemporary Psychology
<!--end-->
"A worthwhile addition to academic libraries; for upper-division undergraduates through faculty." L.L. Scarth, Choice

"The extent and importance of this volume is hard to overestimate in that it comprehensively covers areas of a fundamental nature for any attempt to move forward schooling, as it is now practised, and brings to bear elements of deeper consideration and spiritual value on a wider scale ... The fact that is is written by eminent researchers and bridges theory and practice makes it as a useful and potent asset for the teacher in the classroom and the advocates for a different and more spiritually based approach to childhood learning and education. It gives progressivism in education a sounder theoretical and psychological foundation, on which much could be built." Christopher Clouder, Chairman of the European Council for Steiner Waldorf Education, International Journal of Children's Spirituality, August 2003