The Handbook of Evolutionary Psychology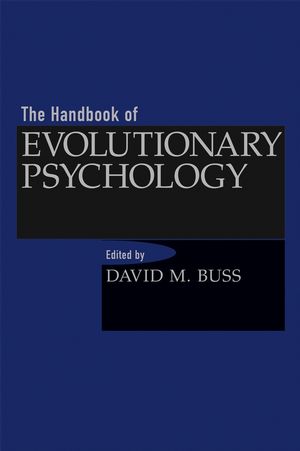 The Handbook of Evolutionary Psychology
ISBN: 978-0-471-26403-3 July 2005 1056 Pages
Description
The foundations of practice and the most recent discoveries in theintriguing newfield of evolutionary psychology

Why is the mind designed the way it is? How does input from the environment interact with the mind to produce behavior? By taking aim at such questions, the science of evolutionary psychology has emerged as a vibrant new discipline producing groundbreaking insights. In The Handbook of Evolutionary Psychology, leading contributors discuss the foundations of the field as well as recent discoveries currently shaping this burgeoning area of psychology.

Guided by an editorial board made up of such luminaries as Leda Cosmides, John Tooby, Don Symons, Steve Pinker, Martin Daly, Margo Wilson, and Helena Cronin, the text's chapters delve into a comprehensive range of topics, covering the full range of the discipline:
Foundations of evolutionary psychology
Survival
Mating
Parenting and kinship
Group living
Interfaces with traditional disciplines of evolutionary psychology
And interfaces across disciplines.
In addition to an in-depth survey of the theory and practice of evolutionary psychology, the text also features an enlightening discussion of this discipline in the context of the law, medicine, and culture. An Afterword by Richard Dawkins provides some final thoughts from the renowned writer and exponent of evolutionary theory. Designed to set the standard for handbooks in the field, The Handbook of Evolutionary Psychology is an indispensable reference tool for every evolutionary psychologist and student.
Foreword xi
Steven Pinker
Acknowledgments xvii
Contributors xix
Introduction: The Emergence of Evolutionary Psychology xxiii
David M. Buss
PART I FOUNDATIONS OF EVOLUTIONARY PSYCHOLOGY
David M. Buss
1 Conceptual Foundations of Evolutionary Psychology 5
John Tooby and Leda Cosmides
2 Life History Theory and Evolutionary Psychology 68
Hillard S. Kaplan and Steven W. Gangestad
3 Domain Specificity and Intuitive Ontology 96
Pascal Boyer and H. Clark Barrett
4 Methods of Evolutionary Sciences 119
Jeffry A. Simpson and Lorne Campbell
5 Controversial Issues in Evolutionary Psychology 145
Edward H. Hagen
PART II SURVIVAL
David M. Buss
6 Locating Places 177
Irwin Silverman and Jean Choi
7 Adaptations to Predators and Prey 200
H. Clark Barrett
8 Adaptations to Dangers from Humans 224
Joshua D. Duntley
PART III MATING
David M. Buss
Adaptationism and Human Mating Psychology 255
Donald Symons
9 Fundamentals of Human Mating Strategies 258
David P. Schmitt
10 Physical Attractiveness in Adaptationist Perspective 292
Lawrence S. Sugiyama
11 Adaptations to Ovulation 344
Steven W. Gangestad, Randy Thornhill, and Christine E. Garver-Apgar
12 Female Infidelity and Sperm Competition 372
Todd K. Shackelford, Nicholas Pound, Aaron T. Goetz, and Craig W. LaMunyon
13 Sexual Coercion 394
Neil M. Malamuth, Mark Huppin, and Bryant Paul
14 Commitment, Love, and Mate Retention 419
Lorne Campbell and Bruce J. Ellis
PART IV PARENTING AND KINSHIP
Martin Daly and Margo Wilson
15 Cooperation and Conflict among Kin 447
Jeffrey A. Kurland and Steven J. C. Gaulin
16 Evolution of Paternal Investment 483
David C. Geary
17 Parental Investment and Parent-Offspring Conflict 506
Catherine Salmon
18 Altruism and Genetic Relatedness 528
Eugene Burnstein
19 Hormones and the Human Family 552
Mark V. Flinn, Carol V. Ward, and Robert J. Noone
PART V GROUP LIVING
David M. Buss
20 Neurocognitive Adaptations Designed for Social Exchange 584
Leda Cosmides and John Tooby
21 Aggression 628
Anne Campbell
22 Managing Ingroup and Outgroup Relationships 653
Robert Kurzban and Steven Neuberg
23 Dominance, Status, and Social Hierarchies 676
Denise Cummins
24 The Evolution of Language 698
Peter F. MacNeilage and Barbara L. Davis
25 The Evolution of Cognitive Bias 724
Martie G. Haselton, Daniel Nettle, and Paul W. Andrews
26 The Evolution of Morality 747
Dennis Krebs
PART VI EVOLUTIONIZING TRADITIONAL DISCIPLINES OF PSYCHOLOGY
David M. Buss
27 Evolutionary Cognitive Psychology 776
Peter M. Todd, Ralph Hertwig, and Ulrich Hoffrage
28 Evolutionary Social Psychology 803
Douglas T. Kenrick, Jon K. Maner, and Norman P. Li
29 Evolutionary Developmental Psychology 828
David F. Bjorklund and Carlos Hernández Blasi
30 Evolutionary Personality Psychology 851
Aurelio José Figueredo, Jon A. Sefcek, Geneva Vasquez, Barbara H. Brumbach, James E. King, and W. Jake Jacobs
31 Biological Function and Dysfunction 878
Jerome C. Wakefield
32 Evolutionary Psychology and Mental Health 903
Randolph M. Nesse
PART VII APPLICATIONS OF EVOLUTIONARY PSYCHOLOGY TO OTHER DISCIPLINES
David M. Buss
33 Literature and Evolutionary Psychology 931
Joseph Carroll
34 Evolutionary Psychology and the Law 953
Owen D. Jones
Afterword 975
Richard Dawkins
Author Index 981
Subject Index 1009
N/A
"Highly Recommended!" (
Choice
, September 2006)
" … all university libraries catering for the broad range of the behavioural sciences should certainly consider acquiring copies for their lending stock." (Reference Reviews, April 2006)
Includes coverage of the most recent discoveries and controversies in the field of evolutionary psychology.

Final section on special applications of evolutionary psychology including:  law, medicine, and culture.

Special Foreword by Steven Pinker; Afterword by Richard Dawkins; essays by Donald Symons, Martin Daly, Margo Wilson, Leda Cosmides, and John Tooby.