The Handbook of Global Communication and Media Ethics, 2 Volume Set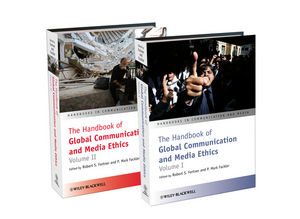 The Handbook of Global Communication and Media Ethics, 2 Volume Set
ISBN: 978-1-444-39061-2
Mar 2011, Wiley-Blackwell
1040 pages
Description
This groundbreaking handbook provides a comprehensive picture of the ethical dimensions of communication in a global setting. Both theoretical and practical, this important volume will raise the ethical bar for both scholars and practitioners in the world of global communication and media.
Selected by Choice as an Outstanding Academic Title for 2011
Brings together leading international scholars to consider ethical issues raised by globalization, the practice of journalism, popular culture, and media activities
Examines important themes in communication ethics, including feminism, ideology, social responsibility, reporting, metanarratives, blasphemy, development, and "glocalism", among many others
Contains case studies on reporting, censorship, responsibility, terrorism, disenfranchisement, and guilt throughout many countries and regions worldwide
Contributions by Islamic scholars discuss various facets of that religion's engagement with the public sphere, and others who deal with some of the religious and cultural factors that bedevil efforts to understand our world
Notes on Contributors ix
Preface xix
1 Primordial Issues in Communication Ethics 1
Clifford G. Christians
2 Communication Ethics: The Wonder of Metanarratives in a Postmodern Age 20
Ronald C. Arnett
3 Information, Communication, and Planetary Citizenship 41
Luiz Martins da Silva
4 Global Communication and Cultural Particularisms: The Place of Values in the Simultaneity of Structural Globalization and Cultural Fragmentation – The Case of Islamic Civilization 54
Bassam Tibi
5 The Ethics of Privacy in High versus Low Technology Societies 79
Robert S. Fortner
6 Social Responsibility Theory and Media Monopolies 98
P. Mark Fackler
7 Ethics and Ideology: Moving from Labels to Analysis 119
Lee Wilkins
8 Fragments of Truth: The Right to Communication as a Universal Value 133
Philip Lee
9 Glocal Media Ethics 154
Shakuntala Rao
10 Feminist Ethics and Global Media 171
Linda Steiner
11 Words as Weapons: A History of War Reporting – 1945 to the Present 193
Richard Lance Keeble
12 Multidimensional Objectivity for Global Journalism 215
Stephen J.A. Ward
13 New Media and an Old Problem: Promoting Democracy 234
Deni Elliott and Amanda Decker
14 The Dilemma of Trust 247
Ian Richards
15 The Ethical Case for a Blasphemy Law 263
Neville Cox
16 The Medium is the Moral 298
Michael Bugeja
17 Development Ethics: The Audacious Agenda 317
Chloe Schwenke
18 Indigenous Media Values: Cultural and Ethical Implications 342
Joe Grixti
19 Media Ethics as Panoptic Discourse: A Foucauldian View 364
Ed McLuskie
20 Ethical Anxieties in the Global Public Sphere 376
Robert S. Fortner
21 Universalism versus Communitarianism in Media Ethics 393
Clifford G. Christians
22 Responsibility of Net Users 415
Raphael Cohen-Almagor
23 Media Ethics and International Organizations 434
Cees J. Hamelink
24 Making the Case for What Can and Should Be Published 452
Bruce C. Swaffield
25 Ungrievable Lives: Global Terror and the Media 461
Giovanna Borradori
26 Journalism Ethics in the Moral Infrastructure of a Global Civil Society 481
Robert S. Fortner
27 Problems of Application 500
P. Mark Fackler
28 Disenfranchised and Disempowered: How the Globalized Media Treat Their Audiences – A Case from India 515
Anita Dighe
29 Questioning Journalism Ethics in the Global Age: How Japanese News Media Report and Support Immigrant Law Revision 533
Kaori Hayashi
30 Ancient Roots and Contemporary Challenges: Asian Journalists Try to Find the Balance 553
Jiafei Yin
31 Understanding Bollywood 576
Vijay Mishra
32 Peace Communication in Sudan: Toward Infusing a New Islamic Perspective 601
Haydar Badawi Sadig and Hala Asmina Guta
33 Media and Post-Election Violence in Kenya 625
P. Mark Fackler, Levi Obonyo, Mitchell Terpstra, and Emmanuel Okaalet

34 Ethics of Survival: Media, Palestinians, and Israelis in Conflict 654
Oliver Witte
35 Voiceless Glasnost: Responding to Government Pressures and Lack of a Free Press Tradition in Russia 676
Victor Akhterov
36 Media Use and Abuse in Ethiopia 699
Zenebe Beyene
37 Collective Guilt as a Response to Evil: The Case of Arabs and Muslims in the Western Media 734
Rasha A. Abdulla and Mervat Abou Oaf
38 Journalists as Witnesses to Violence and Suffering 751
Amy Richards and Jolyon Mitchell
39 Reporting on Religious Authority Complicit with Atrocity 773
Paul A. Soukup, S.J.
40 The Ethics of Representation and the Internet 784
Boniface Omachonu Omatta
41 Authors, Authority, Ownership, and Ethics in Digital Media and News 802
Jarice Hanson
42 Ethical Implications of Blogging 822
Bernhard Debatin
43 Journalism Ethics in a Digital Network 844
Jane B. Singer
44 Now Look What You Made Me Do: Violence and Media Accountability 863
Peter Hulm
45 Protecting Children from Harmful Influences of Media through Formal and Nonformal Media Education 890
Asbjørn Simonnes and Gudmund Gjelsten
46 Ethics and International Propaganda 911
Philip M. Taylor
47 Modernization and Its Discontents: Ethics, Development, and the Diffusion of Innovations 932
Robert S. Fortner
48 Communication Technologies in the Arsenal of Al Qaeda and Taliban: Why the West Is Not Winning the War on Terror 952
Haydar Badawi Sadig, Roshan Noorzai, and Hala Asmina Guta
49 The Ethics of a Very Public Sphere: Differential Soundscapes and the Discourse of the Streets 972
Robert S. Fortner
Index 991
"The present volume is the most far-reaching to date. Summing Up: Essential. Lower-division undergraduates through faculty and professionals." (Choice, 1 November 2011)