The Handbook of Hispanic Sociolinguistics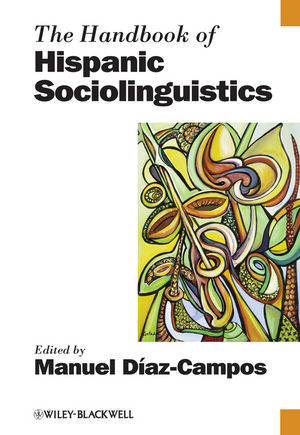 The Handbook of Hispanic Sociolinguistics
ISBN: 978-1-119-10891-7 September 2015 Wiley-Blackwell 816 Pages
Description
This Handbook provides a comprehensive, state-of-the-art overview of theoretical and descriptive research in contemporary Hispanic sociolinguistics.
Offers the first authoritative collection exploring research strands in the emerging and fast-moving field of Spanish sociolinguistics
Highlights the contributions that Spanish Sociolinguistics has offered to general linguistic theory
Brings together a team of the top researchers in the field to present the very latest perspectives and discussions of key issues
Covers a wealth of topics including: variationist approaches, Spanish and its importance in the U.S., language planning, and other topics focused on the social aspects of Spanish
Includes several varieties of Spanish, reflecting the rich diversity of dialects spoken in the Americas and Spain
Table of contents
List of Figures.
List of Tables.
Notes on Contributors.
Introduction (Manuel Díaz-Campos).
I Phonological Variation.
1 Laboratory Approaches to Sound Variation and Change (Laura Colantoni).
2 Variationist Approaches: External Factors Conditioning Variation in Spanish Phonology (Antonio Medina-Rivera).
3 Internal Factors Conditioning Variation in Spanish Phonology (Francisco Moreno-Fernández).
4 Socio-phonological Variation in Latin American Spanish (John M. Lipski).
5 Sociophonological Variation and Change in Spain (José Antonio Samper Padilla).
II Morphosyntactic Variation.
6 Variationist Approaches to Spanish Morphosyntax: Internal and External Factors (Scott A. Schwenter).
7 Variation and Grammaticalization (Rena Torres Cacoullos).
8 Morphosyntactic Variation in Spanish-Speaking Latin America (Paola Bentivoglio and Mercedes Sedano).
9 Morphosyntactic Variation in Spain (María José Serrano).
III Language, the Individual, and the Society.
10 Aging, Age, and Sociolinguistics (Richard Cameron).
11 Gender and Variation: Word-final /s/ in Men's and Women's Speech in Puerto Rico's Western Highlands (Jonathan Holmquist).
12 Forms of Address: The Effect of the Context (Diane R. Uber).
13 Becoming a Member of the Speech Community: Learning Socio-phonetic Variation in Child Language (Manuel Díaz-Campos).
14 The Relationship between Historical Linguistics and Sociolinguistics (Donald N. Tuten and Fernando Tejedo-Herrero).
15 The Acquisition of Variation in Second Language Spanish: How to Identify and Catch a Moving Target (Kimberly Geeslin).
IV Spanish in Contact.
16 Spanish in Contact with Quechua (Anna María Escobar).
17 Spanish in Contact with Guaraní (Shaw N. Gynan).
18 Spanish in Contact with Catalan (José Luis Blas Arroyo).
19 Spanish in Contact with Portuguese: the Case of Barranquenho (J. Clancy Clements, Patrícia Amaral, and Ana R. Luís).
20 Spanish in Contact with Haitian Creole (Luis A. Ortiz López).
21 Palenque (Colombia): Multilingualism in an Extraordinary Social and Historical Context (Armin Schwegler).
22 Spanish in Contact with Arabic (Lotfi Sayahi).
V Spanish in the United States, Heritage Language, L2 Spanish.
23 Spanish in the United States: Bilingual Discourse Markers (Lourdes Torres).
24 Functional Adaptation and Conceptual Convergence in the Analysis of Language Contact in the Spanish of Bilingual Communities in New York (Ricardo Otheguy).
25 Code-switching among US Latinos (Almeida Jacqueline Toribio).
26 Language and Social Meaning in Bilingual Mexico and the United States (Norma Mendoza-Denton and Bryan James Gordon).
27 Intrafamilial Dialect Contact (Kim Potowski).
28 Heritage Language Students: The Case of Spanish (Guadalupe Valdés and Michelle Geoffrion-Vinci).
29 Language Maintenance and Language Shift among US Latinos (Jorge Porcel).
30 Mockery and Appropriation of Spanish in White Spaces: Perceptions of Latinos in the United States (Adam Schwartz).
VI Language Policy/Planning, Language Attitudes and Ideology.
31 Planning Spanish: Nationalizing, Minoritizing and Globalizing Performances (Ofelia García).
32 Bilingual Education in Latin America (Serafín M. Coronel-Molina and Megan Solon).
33 Variation and Identity in Spain (Juan Manuel Hernández-Campoy).
34 Variation and Identity in the Americas (Mercedes Niño-Murcia).
35 Linguistic Imperialism: Who Owns Global Spanish? (Clare Mar-Molinero and Darren Paffey).
Index.
Reviews
"A welcome and timely publication … Díaz-Campos singlehandedly tackled this massive task with impeccable editorial skills and a well-informed vision, delivering a readable and instructive volume … [It] offers an excellent compilation that well represents the scholarship in the field of Hispanic sociolinguistics. It reviews major issues, literature, and findings, covering all important morphosyntactic and phonological variables and extra-linguistic factors, applications of variationist methods to the study of language change and acquisition, macro and micro approaches to language contact situations, and issues of language planning and ideology. There is an appropriate balance of Spanish-speaking communities on both sides of the Atlantic … An imperative reference for scholars and advanced students of Hispanic sociolinguistics, obligatory on all MA and PhD reading lists on Hispanic linguistics, and highly recommended for anyone seeking a comprehensive, contemporary view of the field."  (Journal of Sociolinguistics, 1 May 2013)
"This is a state-of-the art and informative book that tackles many of the pivotal issues in theoretical and experimental Hispanic sociolinguistics. It features internationally renowned contributors from around the world, providing a broad view and new insights into this complex and dynamic field. Its pan-Hispanic approach – together with its breadth and novelty – make the volume an indispensable reference book for both students and researchers."  (Language in Society, 1 April 2013)
"In conclusion, this volume merits praise for having compiled many excellent chapters—representing both traditional and newer research trends in Hispanic sociolinguistics—by its thirty-five authors . . . As it is, it should be recommended for purchase by our university libraries as a reference book."  (Project Muse, 23 April 2013)
"The volume presents a clear explanation of the history of the field, recent advancements, and future directions for the field of Hispanic sociolinguistics that are relevant and accessible to anyone with an interest in the topic. The compilation is a "must-have" for the bookshelf of any modern sociolinguist, and it is a resource that will help raise questions and shape debates in the field for years to come."  (Linguist, 4 August 2012)

"The book is a really impressive collection of key issues in today´s sociolinguistics. It presents the most researched areas of the field in a comprehensive way and thereby reflects the rich diversity of dialects and varieties spoken across the Americas and Spain. It should certainly be compulsory reading for anyone interested in sociolinguistics." (ELanguage, 2011)