The Handbook of Knowledge-Based Coaching: From Theory to Practice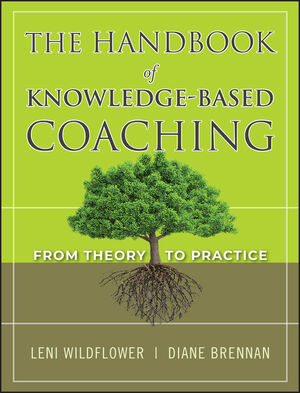 The Handbook of Knowledge-Based Coaching: From Theory to Practice
ISBN: 978-0-470-62444-9 June 2011 Jossey-Bass 432 Pages
Description
Praise for The Handbook ofKnowledge-Based Coaching
"Definitive, with extensive references and a commitment to connecting theory to practice in every chapter, this important contribution is a delicious and wide-ranging exploration of the lineages that have shaped the modern practice of coaching."
—Doug Silsbee, author, Presence-Based Coaching and The Mindful Coach
"The translation of theories from multiple disciplines to the practice of coaching makes this book a must-read!"
—Terrence E. Maltbia, senior lecturer, Adult Learning and Leadership; and faculty director, Columbia Coaching Certification Program, Teachers College, Columbia University
"If you have an appetite for the scientific roots of what works best in coaching, and you are hungry for an easy-to-digest translation of the science to practice, this book is a feast and will be on your plate for many years to come."
—Margaret Moore (Coach Meg), founder and CEO, Wellcoaches Corporation; and codirector, Institute of Coaching, McLean Hospital, Harvard Medical School
"Whether you're a beginner or an experienced coach, this rollicking ride through dozens of the most important theories and perspectives in coaching will be a vital companion. With quick and helpful summaries of key ideas and their use—and selective bibliographies should you wish to go deeper into a particular area—this book will help you support your clients in a targeted and sophisticated way."
—Jennifer Garvey Berger, author, Changing on the Job: Growing the Leaders Our Organizations Need; and coeditor, Executive Coaching: Practices and Perspectives
"This is a book I have been missing. What a pleasure to read and what a stretching of my mind."
—Kim GØrtz, senior consultant, Copenhagen Coaching Center
"Anyone who is serious about improving the quality of coaching will find The Handbook an invaluable resource that reflects the breadth and richness of the growing evidence-based approach to coaching practice."
—David Clutterbuck, visiting professor in the coaching and mentoring faculties, Oxford Brookes and Sheffield Hallam Universities
Preface: From Theory to Practice (
Leni Wildfl ower and Diane Brennan
).
Acknowledgments.
PART ONE: Human Behavior and Coaching.
ONE: Humanistic and Transpersonal Psychology (Alison Whybrow and Leni Wildflower).
TWO: Cognitive Behavioral Therapy and Related Theories (Leni Wildflower).
THREE: Positive Psychology (Kate Hefferon).
FOUR: Transactional Analysis (Jenny Rogers).
FIVE: Adult Development (Leni Wildflower).
SIX: Theories of Intelligence (Jonathan Passmore, Chloé Tong, and Leni Wildflower).
SEVEN: Neuroscience (Linda J. Page).
PART TWO: Human Interaction and Coaching.
EIGHT: Theories of Adult Learning (John Leary-Joyce and Leni Wildflower).
NINE: Social Constructionism (Sherry Harsch-Porter).
TEN: Theories of Change (Leni Wildfl ower and Diane Brennan).
ELEVEN: Communication Theory (Irene F. Stein and Reinhard Stelter).
TWELVE: Confl ict Management (Cinnie Noble, Edward G. Modell, and Diane Brennan).
THIRTEEN: Systems Theory and Family Systems Therapy (Leni Wildflower and Diane Brennan).
FOURTEEN: Transition and Career Management (Jenny Rogers).
PART THREE: Organizations, Leadership, and Coaching.
FIFTEEN: Leadership (Diane Brennan).
SIXTEEN: Organizations and Organizational Culture (Mary Wayne Bush, Tony Latimer, and Leni Wildflower).
SEVENTEEN: Team and Group Behavior (Laura Hauser).
EIGHTEEN: Situational and Contextual Issues in the Workplace (Mary Wayne Bush).
PART FOUR: Traditions from Self-Help, Personal Growth, and Spirituality.
NINETEEN: Spiritual and Religious Traditions (Jennifer Sellers).
TWENTY: The Self-Help and Human Potential Movements (Leni Wildflower).
TWENTY-ONE: Mindfulness (Janet Baldwin Anderson, Francine Campone, and Jennifer Sellers).
PART FIVE: Coaching Specific Populations.
TWENTY-TWO: Education (Kathy Norwood and Mary Ann Burke).
TWENTY-THREE: Issues of Aging (Connie S. Corley).
TWENTY-FOUR: Culture and Cultural Intelligence (Katrina Burrus).
TWENTY-FIVE: Issues of Gender (Karen Tweedie and Leni Wildflower).
TWENTY-SIX: Environmental Sustainability (Katrina S. Rogers).
PART SIX: Creative Applications.
TWENTY-SEVEN: Coaching and the Body (Terrie Lupberger).
TWENTY-EIGHT: A Narrative Approach to Coaching (David B. Drake).
TWENTY-NINE: Solution-Focused Coaching and the GROW Model (Carol Wilson).
THIRTY: Appreciative Inquiry (Jacqueline Binkert and Ann L. Clancy).
PART SEVEN: Components of Effective Coaching.
THIRTY-ONE: Coach Maturity: An Emerging Concept (David Clutterbuck and David Megginson).
THIRTY-TWO: Use of Assessments in Coaching (Mary M. Nash, Dian Christian, and Janet Baldwin Anderson).
THIRTY-THREE: Current Research on Coaching (Francine Campone).
Afterword: Challenges Ahead (Jenny Rogers).
References.
The Editors.
The Contributors.
Name Index.
Subject Index.