The Handbook of Language and Speech Disorders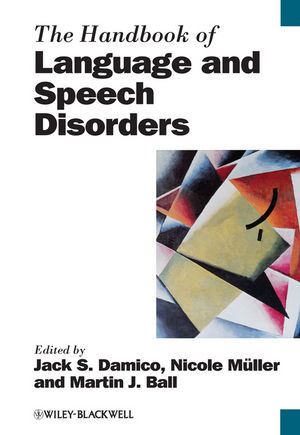 The Handbook of Language and Speech Disorders
ISBN: 978-1-118-44871-7
Jul 2012, Wiley-Blackwell
704 pages
Description
Through contributions from leading experts in the fields of communication science, The Handbook of Speech and Language Disorders presents a comprehensive survey detailing the state of the art in speech, language, and cognitive/intellectual disorders.
Provides the first in-depth exploration of the rapidly expanding field of communication disorders
Examines the current debates, landmark studies, and central themes in the discipline, including analytical methods and assessment
Includes contributions from more than 20 leading scholars to provide an extraordinary breadth of coverage of this growing, multi-disciplinary field
Features a "foundations" section that deals with issues of central importance to all research in the field, including social and practical considerations in classification and diversity, genetic syndromes, and principles of assessment and intervention
List of Figures.
Notes on Contributors.
Introduction.
Part I Foundations.
1 Social and Practial Considerations in Labeling.
2 Diversity Considerations in Speech and Language Disorders.
3 Intervention for Children with Auditory or Visual Sensory Impairments.
4 Intelligibility Impairments.
5 Genetic Syndromes and Communication Disorders.
6 Principles of Assessment and Intervention.
Part II Language Disorders.
7 Autism Spectrum Disorders: The State of the Art.
8 Delayed Language Development in Preschool Children.
9 Specific Language Impairment.
10 Pragmatic Impairment.
11 Learning Disabilities.
12 Reading and Reading Impairments.
13 Substance Abuse and Childhood Language Disorders.
14 Aphasia.
Part III  Speech Disorders.
15 Children with Speech Sound Disorders.
16 Dysarthria.
17 Apraxia of Speech.
18 Augmentative and Alternative Communication: An Introduction.
19 Fluency and Fluency Disorders.
20 Describing Voice Disorders.
21 Orofacial Anomalies.
22 Speech Disorders Related to Head and Neck Cancer: Laryngectomy, Glossectomy, and Velopharyngeal and Maxillofacial Defects.
Part IV Cognitive and Intellectual Disorders.
23 ADHD and Communication Disorders.
24 Communication Deficits Associated with Right Hemisphere Brain Damage.
25 Traumatic Brain Injury.
26 Dementia.
Author Index.
Subject Index.
"Organized in four sections, this handbook provides detailed reviews of many common speech and language disorders. The last three sections cover familiar topics – language disorders, speech disorders, cognitive/intellectual disorders. However, the introductory section, 'Foundations', is unique in that it addresses issues that are universal to any type of disorder and its treatment, such as labeling, diversity, genetics, assessment, additional impairments, and more … Recommended." CHOICE (February 2011)