The Handbook of Large Group Methods: Creating Systemic Change in Organizations and Communities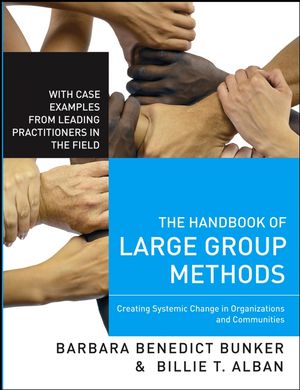 Description
Large Group Interventions are methods used to gather a whole system together to discuss and take action on the target agenda. That agenda varies from future plans, products, and services, to redesigning work, to discussion of troubling issues and problems. The Handbook of Large Group Methods takes the next step in demonstrating through a series of cases how Large Group Methods are currently being used to address twenty-first-century challenges in organizations and communities today, including:
Working with widely dispersed organizations, and the problem of involvement and participation
Working with organizations facing a serious business crisis
Working with organizations in polarized and politicized environments
Working in community settings with diverse interest groups
Working at the global level and adapting these methods for cross-cultural use
Embedding and sustaining new patterns of working together in organizations and communities
Preface.
PART ONE: SETTING THE STAGE.
1 That Was Then, but This Is Now: The Past, Present, and Future of Large Group Methods.
PART TWO: SIX CHALLENGES FOR THE 21st CENTURY.
2 Widely Dispersed Organizations and the Problem of Involvement.
3 Organizations in Crisis.
4 Working in Polarized and Politicized Environments.
5 Working in Communities with Diverse Interest Groups.
6 Working Cross-Culturally.
7 Embedding New Patterns of Working.
PART THREE: RESOURCES FOR LARGE GROUP METHODS.
8 Resources for Large Group Methods.
The Authors.
Index.
"Overall, the book is well planned and presented. True to the editors' preference, each chapter is essentially a story about approach to a particular problem." (PsycCritiques, 09/06/2007)
Specifically this book will address: Several new methods such as Appreciative Inquiry, The World Café, and AmericaSpeaks. Adaptations of scenario planning and network analysis for large groups. Innovative use of LG methods in community, in business, in education and with different populations such as youth. Cross-cultural use of methods--book present work in many different cultures that will include an analysis of how the methods need to be adapted for the culture. Use of technology such as computers and voting touch pads to work with groups from 25 to 1000 Graphic facilitation in large group settings Conflict resolution methods in large groups After a big event, how does the change agreed to and fervently endorsed get made real as people go back to busy work lives and other pressures?