The Handbook of Organic and Fair Trade Food Marketing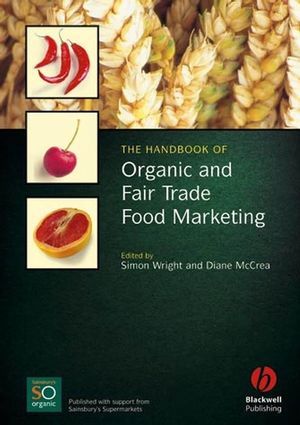 The Handbook of Organic and Fair Trade Food Marketing
ISBN: 978-0-470-99608-9 April 2008 Wiley-Blackwell 312 Pages
Description
The markets for organic and fair trade food are growing rapidly. Although there are some important differences, both seek to address the consumer desire for "better" food: fair trade because it offers economically disadvantaged producers a better financial return; organic because it is perceived to be a more sustainable system delivering better-tasting, healthier and safer food than that produced by non-organic methods.





The Handbook of Organic and Fair Trade Food Marketing provides a practical guide to successful marketing in these two dynamic sectors, underpinned by case-histories and lessons from companies that have been successful in these areas, including Green & Black's, Yeo Valley and Duchy Originals. It includes a review of the international markets for organic and fair trade food and drink; an analysis of organic and fair trade consumers; a review of successful retailing practice and a section on organic and fair trade divergence and convergence. Chapters are also included on perspectives from the USA, Germany and Italy. The book is written by industry experts, augmented by academic contributions where appropriate, offering for the first time the practical marketing advice required by companies in this sector.
Foreword by Justin King, Group Chief Executive, Sainsbury's.
.
1. The international market for organic and fair trade food and drink.
Amarjit Sahota, Organic Monitor, London, UK.
2. The organic consumer.
Martin Cottingham, Marketing Director, Soil Association, Bristol, UK.
3. The fair trade consumer.
Harriet Lamb, Fairtrade Foundation, London, UK.
.
Successful organic and fair trade brands.
4. Case history: Yeo Valley.
Graham Keating, Yeo Valley Farms, Blagdon, Bristol, UK.
5. Case history: Green & Black's.
Craig Sams, President, Green and Blacks, Hastings, UK.
6. Case history: Abel & Cole.
Ella Heeks, Abel & Cole, London, UK.
7. Case history: Clipper Tea.
Lorraine Brehme, Bridport, Dorset, UK.
8. Case history: Duchy Originals.
Petra Mihaljevich, Duchy Originals, East Twickenham, UK.
.
.
9. Case history: Sainsbury's SO Organic.
Ruth Bailey, Senior Brand Manager: Organics, Sainsbury's Supermarkets plc, London, UK.
10. Organic and fair trade marketing in Germany.
Hubert Rottner, Spalt, Germany.
11. Organic and fair trade marketing in Italy.
Paola Cremonini, Cremonini Consulting, Bologna, Italy.
12. Organic and fair trade marketing in the USA.
Elaine Lipson, New Hope Natural Media, Boulder, Colorado, USA.
13. Organic / fair trade crossover and convergence.
David Croft, Ethical Sourcing Director, Cadbury's, London, UK and John Bowes, Cumbria, UK.
Further resource: Useful organic and fair trade websites.
Simon Wright, O&F Consulting, London, UK.
Index
"This book makes an excellent contribution to the organic movement by providing a detailed analysis fo the market for, and the marketing of, organic products. As such it assists in filling in the void that exists between narrowly focused academic publications, topical journalism and consumer publications that focus on why organic and where to get it from. However, as the title indicates, it goes further by including consideration of the fair trade label"
Garden Organic

"Although the book originates from the United Kingdom, the issues surrounding the organic and fair trade consumer are applicable throughout the world"

Garden Organic

"...this book is relavant to a wide audience among those who have an interest in customers who purchase organic and fair trade products. It offers the substance that any academic or policy maker requires and the practical insights that are sometimes so hard to obtain. By including consideration of some of the current trends, it is also valuable to any business that is considering how to position itself and make a long term commitment to the organic and fair trade areas"

Garden Organic
- Provides for the first time a practical guide to successful marketing in these fast-growing sectors of the food industry
- Includes case-histories and lessons from companies that have been successful in these areas, including Green & Black's, Yeo Valley and Duchy Originals

- Includes a review of the international markets for organic and fair trade food and drink