The Handbook of Rhetoric and Public Address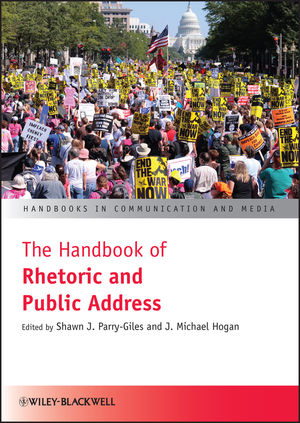 The Handbook of Rhetoric and Public Address
ISBN: 978-1-444-32411-2
Mar 2010, Wiley-Blackwell
496 pages
Description
The Handbook of Rhetoric and Public Address is a state-of-the-art companion to the field that showcases both the historical traditions and the future possibilities for public address scholarship in the twenty-first century.
Focuses on public address as both a subject matter and a critical perspective
Mindful of the connections between the study of public address and the history of ideas
Provides an historical overview of public address research and pedagogy, as well as a reassessment of contemporary public address scholarship by those most engaged in its practice
Includes in-depth discussions of basic issues and controversies public address scholarship
Explores the relationship between the study of public address and contemporary issues of civic engagement and democratic citizenship
Reflects the diversity of views among public address scholars, advancing on-going discussions and debates over the goals and character of rhetorical scholarship
Notes on Contributors.
Acknowledgments.
Introduction: The Study of Rhetoric and Public Address (Shawn J. Parry-Giles and J. Michael Hogan).
Part I The History and Prospects of Rhetoric and Public Address.
1 The History of Public Address as an Academic Study (Martin J. Medhurst).
2 Public Address Scholarship in the New Century: Achievements and Challenges (David Zarefsky).
3 Rhetorical Criticism 2009: A Study in Method (Karlyn Kohrs Campbell).
Part II Basic Research in Rhetoric and Public Address.
4 Textual Recovery, Textual Discovery: Returning to Our Past, Imagining Our Future (Davis W. Houck).
5 The Processes and Challenges of Textual Authentication (Robert N. Gaines).
6 Archival Research and the American Presidency: The Political and Rhetorical Complexities of Presidential Records (Shawn J. Parry-Giles).
7 From Recovering Women's Words to Documenting Gender Constructs: Archival Research in the Twenty-First Century (Susan Zaeske and Sarah Jedd).
Part III Text and Context in Rhetoric and Public Address.
8 The Racial Contexts of Public Address: Interpreting Violence During the Reconstruction Era (Kirt H. Wilson).
9 Lilies and Lavatory Paper: The Public and the Private in British Suffrage Archives (Cheryl R. Jorgensen-Earp).
10 Studying Visual Modes of Public Address: Lewis Hine's Progressive-Era Child Labor Rhetoric (Cara A. Finnegan).
11 Theory and Public Address: The Allusive Mr. Bush (John M. Murphy).
Part IV Questions of Effect in Rhetoric and Public Address.
12 Jimmy Carter, Human Rights, and Instrumental Effects of Presidential Rhetoric (Mary E. Stuckey).
13 Analyzing Constitutive Rhetorics: The Virginia and Kentucky Resolutions and the "Principles of '98" (James Jasinski and Jennifer R. Mercieca).
Part V The Politics of Rhetoric and Public Address.
14 Feminism and Public Address Research: Television News and the Constitution of Women's Liberation (Bonnie J. Dow).
15 The Problem of Race in Public Address Research: W. E. B. Du Bois and the Confl icted Aesthetics of Race (Eric King Watts).
16 Sexuality and Public Address: Rhetorical Pasts, Queer Theory, and Abraham Lincoln (Charles E. Morris III).
17 Public Address and the Revival of American Civic Culture (J. Michael Hogan).
Select Bibliography.
Index.
"On the whole, an indispensable volume for those interested in the history and future of the field. Highly recommended. Upper-division undergraduates and above." (Choice, 1 May 2011)
Focuses on public address as both a subject matter and a critical perspective
Mindful of the connections between the study of public address and the history of ideas
Provides an historical overview of public address research and pedagogy, as well as a reassessment of contemporary public address scholarship by those most engaged in its practice
Includes in-depth discussions of basic issues and controversies public address scholarship
Explores the relationship between the study of public address and contemporary issues of civic engagement and democratic citizenship
Reflects the diversity of views among public address scholars, advancing on-going discussions and debates over the goals and character of rhetorical scholarship