The Handbook of School Psychology, 4th Edition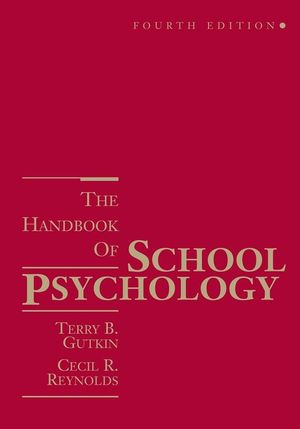 The Handbook of School Psychology, 4th Edition
ISBN: 978-0-471-70747-9 October 2008 992 Pages
Description
The Fourth Edition of The Handbook of School Psychology continues the tradition of providing a unique and comprehensive outlet for disseminating the collective wisdom and insight of outstanding scholars working in the field of school psychology. This edition brings together the field's latest developments in research and practice, highlighting domains in which there has emerged both growing consensus and vibrant cross currents of thought and analysis. Featuring chapters with new foci, authors, and content, this edition showcases the trajectory of the field and is intended to lead students forward into an increasingly challenging and rewarding future.
Buy Both and Save 25%!
Original Price:$316.95
Purchased together:$237.71
save $79.24
Cannot be combined with any other offers.
Section 1. The Scientific Foundations of School Psychology.
1. Advances in Quantitative Research (Tim Z. Keith & Matthew R. Reynolds).
2. Advances in Qualitative Research (Bonnie Kaul Nastasi).
3. Advances in Single Subject Design (Nancy A. Neef).
4. The Contributions of Educational to School Psychology (Brendan J. Bartlett & Stephen N. Elliott).
5. Contributions of Applied Behavior Analysis (Ed Daly III, Brian K. Martens, Christopher H. Skinner, & George H. Noell).
6. School Psychology and Developmental Psychology: Moving From Programs to Processes (Robert C. Pianta).
7. Contributions of Cognitive Psychology to School Psychology (Gregory Schraw & Peter Reynolds).
8. Contributions of Social Psychology to School Psychology (Fred J. Medway & Thomas P. Cafferty).
9. Contributions of Biological Psychology (James Kalat & John C. Begeny).
10. Contributions of Developmental Psychopathology to School Psychology (John E. Lochman, Caroline L. Boxmeyer, & Nicole R. Powell).
Section 2. Psychological and Educational Assessment.
11. Roles of Diagnosis and Classification in School Psychology (Erin Dowdy, Kristen L. Mays, Randy W. Kamphaus & Cecil R. Reynolds).
12. Errors in Diagnostic Decision Making and Clinical Judgment (Marley M. Watkins).
13. Assessment of Intelligence and Achievement (Randy W. Kamphaus).
14. Preschool Assessment (Patti L. Harrison).
15. Children's Knowledge of Basic Concepts: An Essential Component of Direction Following and Problem Solving (Anne Boehm).
16. Assessment of Personality and Adjustment (Cedar W. O'Donnell & Paul J. Frick).
17. Neuropsychological Assessments in the School (Joan Mayfield, Cecil R. Reynolds & Elaine Fletcher-Janzen).
18. The Problem of Bias in Psychological Assessment (Cecil R. Reynolds).
19. Behavioral Assessment (Timothy R. Vollmer, Claire C. St. Peter Pipkin, Jorge R. Reyes & Kimberly N. Sloman).
20. Curriculum-Based Assessment (John M. Hintze).
21. Functional Assessment of Instructional Environments for the Purpose of Making Data-Drive Instructional Decisions (Jim Ysseldyke & Matthew Burns).
22. Response to Intervention (Dan J. Reschly & Melissa K. Bergstrom).
Section 3. Interventions: Focus on Children.
23. Ecological School Psychology: A Personal Opinion and a Plea for Change (Terry Gutkin).
24. Evidence-Based Interventions and Practices in School Psychology: Challenges and Opportunities (Thomas R. Kratochwill, Kimberly Eaton Hoagwood, Jennifer L. Frank, Jessica Mass Levitt, Serene Olin, Lisa Hunter Romanelli & Noa Saka).
25. Working with Struggling Readers: Why We Must Get Beyond the Simple View of Reading and Visions of How It Might Be Done (Michael Pressley, Nell K. Duke, Irene W. Gaskins, Lauren Fingeret, Juliet Halliday, Katherine Hilden, Yonghan Park, Shenglan Zhang, Lindsey Mohan, Kelly Reffitt, Lisa Raphael Bogaert, Julia Reynold, Deborah Golos, Katie Solic & Stephanie Collins).
26. Working With Children With Math Problems (Fredricka K. Reisman).
27. Evidence-Based Approaches to Working with Children with Disruptive Behavior (Richard J. Cowan & Susan M. Sheridan).
28. School-Based Consultation: The Science and Practice of Indirect Service Delivery (Terry Gutkin & Michael J. Curtis).
29. Conducting Evidence Based Interventions in the Schools (Kevin D. Stark, Jennifer Hargrave, Bradley Gerber, Melissa Fisher & Amy Hamilton).
30. Partnering with Families for Educational Success (Karla Buerkle, Elizabeth M. Whitehouse & Sandra L. Christenson).
31. Psychopharmacology in School-Age Children (Ronald Brown & Delores M. Zygmont).
32. Pediatric School Psychology: Future Directions for Training School Psychologists (Edward S. Shapiro, Jessica Blom-Hoffman & Jennifer A. Mautone).
33. Understanding and Promoting Resilience in Children: Promotive and Protective Processes in Schools (Ann S. Masten & Frosso Motti-Stefanidi).
34. Assessment of Learning Strategies and Related Constructs in Children and Adolescents (Kathy Stroud & Cecil R. Reynolds).
Section 4. Interventions: Focus on Systems.
35. Effective Teaching and Effective Schools (Maribeth Gettinger & Karen Stoiber).
36. Effective Classrooms: Classroom Learning Environments That Foster School Success (Beth Doll, Courtney LeClair, & Sarah Kurien).
37. Teams as Value Added Consultation Services (Todd A. Gravois, Sarah Groff & Sylvia Rosenfield).
38. Promoting Inclusive Practice in Schools: A Challenging Role for School Psychologists (Peter T. Farrell, Shane R. Jimerson, Andy J. Howes & Sue M. Davies).
39. Thinking Diversity: A Habit of Mind for School Psychology (Mary Clare).
40. Cultural Competence in School Psychology: Established or Elusive Construct? (Craig L. Frisby).
41. Managing Crisis: Prevention, Intervention and Treatment (Jonathan Sandoval & Stephen Brock).
42. Prevention Programs (Joseph A. Durlak).
43. Organizational Consultation and Systems Intervention (Joel Meyers, Adena B. Meyers, Sherrie Lynn Proctor & Emily Cook Graybill).
The fourth edition features the most up-to-date research on scientific progress in the field of school psychology.