The Handbook of Sociolinguistics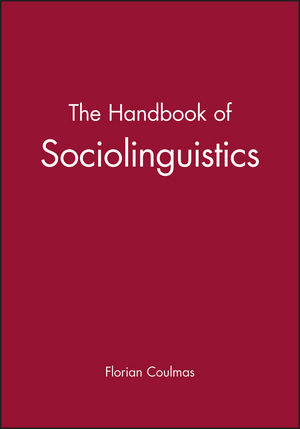 The Handbook of Sociolinguistics
ISBN: 978-0-631-21193-8 September 1998 Wiley-Blackwell 544 Pages
Download Product Flyer
Download Product Flyer
Download Product Flyer is to download PDF in new tab. This is a dummy description. Download Product Flyer is to download PDF in new tab. This is a dummy description. Download Product Flyer is to download PDF in new tab. This is a dummy description. Download Product Flyer is to download PDF in new tab. This is a dummy description.
Description
In 28 newly- commissioned chapters, distinguished contributors provide an up-to-date overview of sociolinguistics.
Table of contents
Introduction: Florian Coulmas (Chou University).
Part I: Foundations:.
1. The Evolution of a Sociolinguistic Theory of Language: R.B. Le Page.
2. The Demography of Language: Albert F. Verdoot (Université Catholique de Louvain).
Part II: Social Dimensions of Language: .
3. Varieties and Variation: James Milroy and Lesley Milroy (University of Newcastle upon Tyne).
4. Language Change in Progress: Variation as it Happens: Norman Denison (Universität Graz).
5. Social Factors in Language Change: William Bright.
6. Sociophonology: John Honey (Osaka International University).
7. Dialect in Society: Walt Wolfram (North Carolina State University).
8. Gender as a Sociolinguistics Variable: New Perspectives on Variation Studies: Ruth Wodak and Gertraud Benke (Universität Wien).
9. Age as a Sociolinguistic Variable: Penelope Eckert (Institute for Research on Learning).
10. Spoken and Written Language: Celia Roberts and Brian Street (Thames Valley University; University of Brighton).
11. The Sociolinguistics of Communication Media: Gerhard Leitner (Freie Universit&aunl;t Berlin).
12. Diglossia as a Sociolinguistic Situation: Harold F. Schiffman (Language Center, SARS).
13. Code Switching: Carol Myers Scotton (University of South Carolina).
14. Language Contact and Language Generation: John R. Rickford (Stanford University).
15. Language Contact and Language Degeneration: Colette Grinevald Craig (University of Oregon).
Part III: Linguistic Dimensions of Society:.
16. Language Contact and Language Displacement: Mathias Brenzinger (Universität zu Koln).
17. Language Conflict: Peter Hans Nelde (Research Centre on Multilingualism, KUB).
18. Multi-Lingualism: Michael Clyne (Monash University).
19. Language and Identity: Andree Tabournet-Keller (Université Louis-Pasteur).
20. Language and Ethnicity: Joshua A. Fishma.
21. Global Scale Sociolinguistics: Grant McConnell (Université Laval).
22. Language and the Mediation of Experience: Linguistics Representation and Cognitive Orientation: Michael Stubbs (Universit&aunl;t Trier).
23. Linguistics Etiquette: Gabriele Kasper (University of Hawaii at Manoa).
Part IV: Applied Issues:.
24. Sociolinguistics and Education: Ludo Verhoeven (Tilburg University).
25. Bilingual Education: Ofelia Garcia (City College of New York).
26. Sociolinguistics and the Law: Edward Finegan (University of Southern California).
27. Language Planning and Language Reform: Denise Daoust (Université de Quebec à Montreal).
Bibliography.
Index.
Reviews
".....the decision to commission 28 articles by leading specialists and to have them combined in this anthology makes excellent sense."The book is excellently edited and printed. It provides up-to-date information on most subdisciplines of sociolinguistics."
Manfred Gorlach, Universitat zu Koln
"It.....presents fresh insights into many subjects, and the papers that are true review articles provide comprehensive bibliogrphic materials for further research.".....this collection offers much of interest and a breadth that makes it a useful resource."Sharon Ash, University of Pennsylvania
Features
* The definitive encyclopedia of sociolinguistics.
* All new articles by the leading figures in the field.