The Handbook of Victim Offender Mediation: An Essential Guide to Practice and Research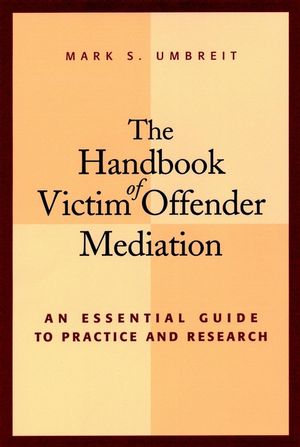 The Handbook of Victim Offender Mediation: An Essential Guide to Practice and Research
ISBN: 978-0-787-95870-1 February 2002 Jossey-Bass 480 Pages
Description
Written by Mark Umbreit, internationally known for his work in restorative justice, this indispensable resource offers an empirically grounded, state-of-the-art analysis of the application and impact of victim offender mediation, a movement that has spread throughout North America and abroad. The Handbook of Victim Offender Mediation provides practical guidance and resources for offering victim meditation in property crimes, in minor assaults, and, more recently, with crimes of severe violence, including with family members of murder victims who request to meet the offender.
Table of contents
Foreword by Marlene Young.

Introduction: Restorative Justice Through Victim OffenderMediation.

PHILOSOPHY, PRACTICE, AND CONTEXT.

Humanistic Mediation: A Transformative Journey ofPeacemaking.

Guidelines for Victim-Sensitive Mediation and Dialogue withOffenders.

The Mediation Process: Phases and Tasks.

Multicultural Implications of Victim Offender Mediation.

Case Studies.

National Survey of Victim Offender Mediation Programs.

Program Development Issues.

WHAT WE ARE LEARNING FROM RESEARCH.

The Impact of Victim Offender Mediation: Two Decades ofResearch.

Cross-National Assessment of Victim Offender Mediation.

Victim Offender Mediation in the United States: A MultisiteAssessment.

Victim Offender Mediation in Canada: A Multisite Assessment.

Victim Offender Mediation in England: A Multisite Assessment.

EMERGING ISSUES.

Advanced Mediation and Dialogue in Crimes of Severe Violence.

Potential Hazards and Opportunities.

Appendix A. Resources: Organizations, Publications,Videotapes.

Appendix B. Directory of VOM Programs in the United States.

Appendix C. Program Profiles.

Appendix D. Promising Practices and Innovations.

Appendix E. Summary of Forty VOM Empirical Studies.

Appendix F. Assessing Participant Satisfaction with VOM.

References.

Index.
Reviews
"This book-by a peerless practitioner, proponent, and scholar ofvictim offAnder mediation-is filled with crucial information,knowledge, insights, and inspiration for lawyers, judges,mediators, social workers, and anyone else who cares about criminaljustice and the possibilities of healing people and communities."(Leonard L. Riskin, C.Leedy Professor of Law & director, Centerfor the Study of Dispute Resolution, University ofMissouri-Columbia)

"Makes a significant contribution to the growing body of work inthe development of nonsettlement-driven approaches to mediationpractice. It clarifies what humanistic conflict intervention canachieve in the victim offAnder arena at this critical juncture inthe field." (Joseph P. Folger, cofounder, Institute for the Studyof Conflict Transformation, and professor, Temple University)

"This is a must-read for any criminal justice professional orvolunteer who is serious about bringing victims and offAnderstogether to continue their journey of recovery. Where else can youget both a theoretical framework and a down-to-earth guide that issteeped in the roots of real lives?" (Mark Carey, deputycommissioner, Minnesota Department of Corrections)

"Captures not only the heart and soul of restorative justice, butalso the value of victim offAnder mediation in helping victims andoffAnders and holding offAnders accountable to the individuals andcommunities they have harmed. The combination of theory, practice,and case studies combines to provide a timely and critical overviewof victim offender mediation as a key tenet and practicalapplication of restorative justice. It is, indeed, essentialreading for any professional or volunteer who seeks to promoteindividual and community safety and justice through restorativemeasures." (Anne Seymour, victim advocate, Justice Solutions,Washington, D.C.)

"Brilliant! Mark Umbreit and his colleagues have written acomprehensive, practical, and inspirational book that weaves a richand varied tapestry depicting the principles, research, andpractice of restorative justice. Beyond its remarkable contributionto the literature on restorative justice, this book is essentialreading for those who want to learn more about the vitalrelationship among theory, research, and practice. (Michael Lang,professor and Special Advisor for Program and Faculty Development,Royal Roads University, Victoria, British Columbia, and editor,Mediation Quarterly)

"..offers a practical state-of-the-art perspective onVOM...concludes with useful information on training materials,directories and profiles of programmes..."(Newsletter of theEuropean Forum for Victim Mediation and Restorative Justice)